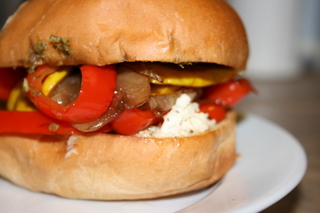 Wow! This recipe is simply delicious! Amazingly simple and frugal without any meat, it is a perfect Summer dinner. We had Aaron's brother Nathan over for dinner and both the guys loved it. That is pretty impressive for a meatless dish. I figured out the cost per serving to be approximately $0.97! That is definitely hard to beat! A great way to use those fresh vegetables that are in season right now. We served with a fresh ear of corn. Yum! This is definitely a keeper and will be added to our frugal and nutritious dinner meals!
Recipe adapted from allrecipes.com, including a few tips from fellow reviewers. I made a few changes and additions to simplify, as original recipe was a little more complicated than necessary.

1/3 cup mayonnaise
3 cloves garlic, minced
1 tablespoon lemon or lime juice (I squeezed 1/2 of a fresh lime)
1/4-1/2 cup balsamic vinegar
1/8 cup olive oil
1 1/2 chopped bell peppers, any variety
1 small zucchini, sliced (we didn't have zucchini so I doubled the yellow squash!)
1 red or white onion, sliced
1 small yellow squash, sliced
bread of your choice – focassia or 6 burger buns
1/2 cup crumbled feta cheese
2-3 tsp pesto
Slice up your veggies and soak in balsamic vineger for about 30 minutes, or longer if desired. You can grill veggies on the BBQ (as the original recipe recommended), but I prefer sauteing on the stove top in olive oil -quick and easy! Another option would be to broil them in the oven. Cut your bread in half and layer one side with the mixture of mayonnaise, garlic and lemon/lime juice, followed by a thin layer of pesto. Top the other side with a little mayo mixture and then the crumbled feta cheese (you don't need very much feta to impart it's wonderful flavor!). Broil this open faced in the oven for 3-5 minutes or so – keep a close eye to avoid burning! After broiling the bun, layer with your sauteed veggies and you have a wonderful veggie sandwich!
Makes 6 servings.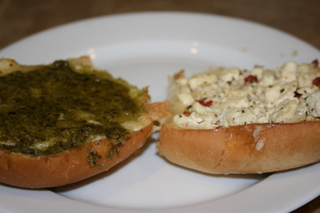 Here is a picture of my grilled bun!