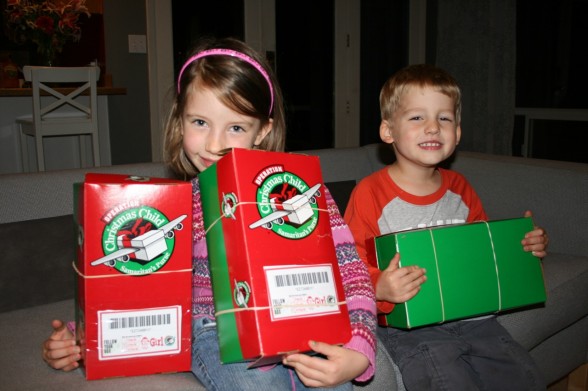 Operation Christmas Child is one of our favorite Christmas activities every year! It is such a fun and tangible way to minister to suffering children around the world alongside your children and family. It is a practical way to get the focus off ourselves and see the great neediness in the world around us. It is a simple way that we can extend God's love to the nations. And our kiddos can participate each step of the way, from picking out gift items, to writing cards and letters to the child, to wrapping, to praying, and finally to seeing the destination of the boxes. You can track your gifts and see what country your shoe box went to, which provides fun interaction and educational experiences with your children as you can discuss the country, the needs, and geography. This is one way to give your children a heart for the world. Watch the promo videos together and all your hearts will be touched.
I cannot encourage your family more to participate in this awesome project! Last year, I shared how I heard back from a child I had sent a shoe box to nearly ten years before. I got to see firsthand the impact of that gift. Read more of Meryl's story here.
Collection week is November 12-19, 2012. Find out more information, drop spots, how to track your gift, and more here.
Need some ideas of what to package in your shoe box?
Check out this post: 101 Operation Christmas Child Shoe Box Ideas
Here are the items we packaged in our boxes this year during our trip to Target:
Boy (2-4 years)- small monster truck, small bouncy balls, crayons, coloring pad, short sleeve t-shirt (these are all on clearance now, so a great time to get something nice for a great price), slinky, toothbrush, toothpaste, soap, washcloth, candy
Girl (5-9 years) – hair bands, my little pony, small stuffed animal, crayons, coloring pad, candy, short sleeve t-shirt, fingernail polish, toiletry items (as listed above)
Girl (10-14 years) – barbie doll, coloring pencils, sketch pad, short sleeve t-shirt, cute head band, hairbrush, fingernail polish, cute socks, toiletry items
And the kids loved drawing a picture and writing a special message to each of the children which adds a personal touch from our heart to theirs.
Will you join us in bringing the love of Christ to children around the world?