Since I received several requests for the freezer meal recipes we used for making meals for the needy family in our church, I would love to share them in a series of posts. I would consider all of these excellent frugal and nutritious meals! We have used these many times over for freezer cooking!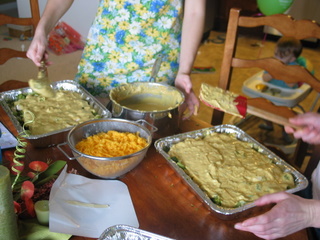 Chicken Divan
2 or more cups cooked brown rice
2 bunches fresh broccoli, lightly stemmed & chopped
2-3 cups cooked chicken, cubed
2 cans cream of mushroom soup (see recipe below)
½ cup mayonnaise
1-2 tsp lemon juice
1 Tbsp curry
½ cup grated cheese
½-3/4 cup bread crumbs
1 tsp melted butter, optional
Since canned soups often contain MSG, I have learned how to make it from scratch, see below. It is also a lot healthier this way, because you can use whole wheat flour and raw milk, if you like. Use one recipe of the soup to replace these cans.
Combine soup (whether canned or homemade) with mayo, lemon and curry. Keep the mixture relatively thin by adding further milk or water. Additional salt may be necessary. Gently steam broccoli until tender.
Grease a 13×9 pan. Layer rice, followed by broccoli and then the chicken. Pour creamed soup mixture over the broccoli. Sprinkle cheese on top. Combine crumbs and butter, sprinkle over all. Bake at 350 for 25-30 minutes. For freezer cooking, leave unbaked and cover to freeze. If frozen, you may have to cook 1 hr or longer.
Condensed Creamed Soup Substitute
2 Tbsp. butter
2 Tbsp. olive oil
1/4 c whole wheat flour
1 tsp. salt or more to taste
12 fresh mushrooms, chopped
2 cups of milk (less for a thicker soup)
Heat butter and oil then add flour and salt, stirring to make a roux. Add mushrooms and cook about a minute, just to soften. Add milk and stir until thickened. This is a substitute (and a great one at that!) for two 10 oz. cans cream of mushroom soup. To make cream of chicken, simply omit mushrooms, add 1 tsp. chicken base (a paste, like bouillon but without the MSG) and substitute half the milk with chicken broth or stock. To make cream of celery, substitute celery for the mushrooms and proceed as listed above.