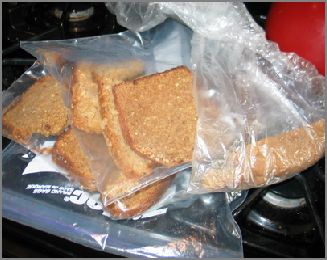 Here's my miscellaneous collection of random slices of homemade bread!
Ever had extra crust or random pieces of bread lying around getting stale? I sure have! It hasn't been till lately that I have been learning the value of not letting things go to waste, and to find a creative use for it! Here are a few uses that have been very successful for us! The cost…practically nothing, considering they would have been thrown out previously. When your bread starts getting stale, put in a Ziploc in the freezer until you have accumulated enough for the following recipes!
Revive Stale Bread
Here's a tip if you have a whole loaf of stale bread to use!
Rub an ice cube (or drizzle water) across unsliced bread until the crust is damp, then bake at 370° F for 12 minutes.
Bread Crumbs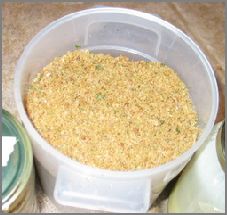 Great for Parmesan chicken or any recipe calling for bread crumbs! Make these in advance and store in an airtight container or Ziploc in freezer. I especially like this recipe because it works great with the crust ends of a loaf – which I am not a real fan of anyway!
Bread slices, broken in pieces
sprig of parsley
1 Tbls melted butter
any other seasonings you like – I add a little garlic powder, italian seasoning, salt and pepper
Crumble all ingredients in a food processor or blend. Pulse until crumbly. Store in freezer till ready to use. If you are in a rush and don't have a supply in the freezer, you can also lay bread slices in the oven and toast until a bit firm and then do the same thing.
Croutons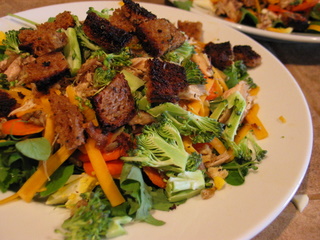 I was paying $2.99 for a tasty by minuscule bag of croutons at my local Trader Joes until I explored making my own. Simply delicious and easy to make. Regular slices of bread work best, although you can use the crust ends, if you like. These last awhile as well! Here are my homemade (and slighty burnt croutons, but still delicious, on a main dish salad we had this week!)

15 slices bread (or whatever quantity you have!)
1/4 cup butter, melted
2 teaspoons garlic salt (optional)
Additional seasonings of your choice -Italian seasoning is great!
Preheat oven to 350 degrees. Remove crusts from stale bread slices (not necessary – I don't waste them!). Brush bread on both sides with melted butter. Cut bread slices up into small cubes. Sprinkle with garlic salt (if desired) and any combination of other herbs (I like oregano). Arrange cubes on an ungreased cookie sheet. Bake for 15 minutes or until browned. Keep an eye on them, and rotate them around, because the burn easily. Let cool. Store croutons in a covered container or plastic bag. Serve in soups or salads.
Bread Pudding
My mom made this growing up and I loved it! It is a real comfort food. Great when you have extra milk and bread!
10 slices bread, cut into cubes
1/4 cup butter, melted
1/2 cup raisins
1 teaspoon ground cinnamon
6 eggs
3/4 cup white sugar (I would use rapadura, or honey)
2 teaspoons vanilla extract
1/2 teaspoon salt
3 cups hot milk
1 pinch ground nutmeg
Heat oven to 375 degrees F(190 degrees C)

In a large bowl, combine bread cubes, melted margarine, raisins, and cinnamon; mix well, and transfer to a 2 quart baking dish.

Use the same bowl to beat the eggs. Stir in sugar, vanilla, and salt until sugar is dissolved. Slowly whisk in the hot milk. Pour egg mixture over bread cubes, sprinkle with nutmeg, and set aside to soak for 5 minutes.

Bake in preheated oven for 25 to 30 minutes, or until a knife inserted into the center comes out clean.
Further Uses
- French Toast – I have heard people recommend using stale bread for french toast! I have yet to try this.
- Throw crumbled bread in a soup
- Bread Dumplings – came across this recipe from someone else! Will be trying it soon!
Warm 1/2 stick butter and 1 cup milk in microwave. Crumble 1 to 2 loaves day-old French bread or 1 bag of bread ends or similar into a large bowl. Pour the butter/milk mixture over the bread (if bread is very moist use less, or more if it's dry). Let stand for one hour. Add 2 large or 3 medium eggs, kneading into bread mixture. Form into small, firm balls about the size of golf balls or slightly larger. Place in boiling water for 20 minutes. Serve with your favorite cut of meat and gravy.
- If nothing else, take a family outing to feed it to the birds! Take it to a pond with your little ones and feed them, and you will have a family building experience!
Cooks.com – a significant list of bread uses!
That's my frugal tip of the day! Don't let it go to waste!
How do you put to use this extra bread? Love to hear your ideas!