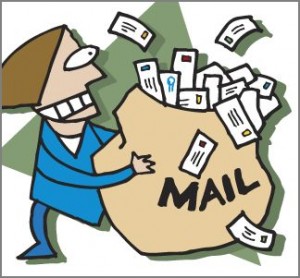 Supermarket flyers, advertisements addressed to "current resident", catalogs you never asked for! It has started driving me up the wall!
In an effort to cut back on the waste in our family, we began recycling our junk mail! I would never have thought that you could save so much space in your kitchen garbage bag by recycling all this paper! I cut back from once a week, to once every two weeks in dumping the kitchen garbage.
But at the same time, we are still often just bringing in the mail and disposing of it immediately in the recycling bins. The question begs to be asked…is this the best way to be good stewards of the earth that the Lord has entrusted to our care? How can we cut this stream of junk mail at the source?
Here are a few options:
1. Register for the Direct Marketing Association's Mail Preference Service. It costs $1 (only if you mail in, online is free with the provision of a CC to confirm identity, but they do not charge it), and it will stop commerical mail from companies that you don't already do business with.
2. Email your full name and current address to the Abacus Catalog Alliance ([email protected]), which will take you off the list of its members.
3. Sign up for OptOutPrescreen, which will stop prescreened credit-card offers.
4. Sign the Do Not Mail Registry, a petition to stop junk mail.
4. Lastly, you will still have stragglers to which you will have to give a ring! Hang onto these throughout the week and make a once a week call to the company's toll-free number. It works! We have been receiving unnecessary gift receipts for our monthly giving to different organizations. I would rather these costs of printing be cut back and used for more effective use. So I called them and just asked for a annual statement for tax purposes. They were more than happy to change this for me.
It may take a few months to notice a difference, but I want to make an effort to cut back on all this junk!