My goal this year was to focus on simple educational resources for my little ones that would be fun, could be enjoyed together or independently, and would help stimulate their brains and critical thinking skills. We have more than enough toys in our house and find they get old very easily. I grow tired of the clutter of toys anyway, so even with gifts from the grandparents, we ask for family memberships to a local museum that could be enjoyed again and again, or gift certificates to local children's plays or musical performances. These are some of the best gifts that I have discovered that really build the thinking skills but are tons of fun at the same time, most appropriate for 2-6 years of age (although many are suitable for older children as well)!
LOGIC / BUILDING TOYS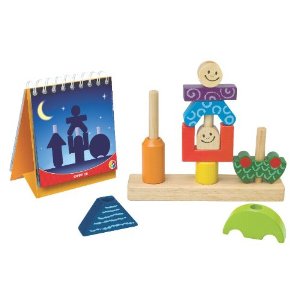 Day and Night - this is a great little smart games toy perfect for 3-5 year olds in which you try to copy the picture by using the included blocks in a stacking pattern on the stand included. It has two different levels so can easily extend its use as your child gets older. I got this for my 3 year old son this year for his quiet time learning bins time.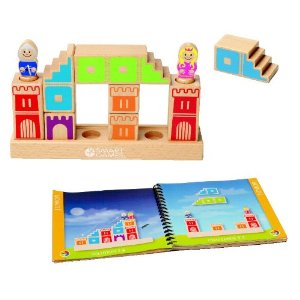 Camelot Jr - another logic puzzle similar to Day and Night in which you build different road patterns to join the knight and the princess together but more advanced for ages 4 and older. Both are appropriate for boys and girls!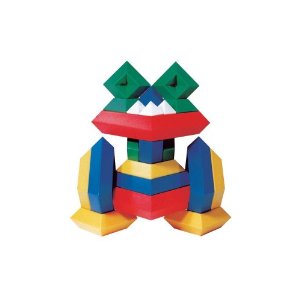 Wedgits - We bought these blocks for our learning bin time and the kids have had a blast creatively nesting, stacking, and linking these blocks together! This 30 piece set has a wealth of different creations you can make! Tons of fun! You can also get Wee Wedgits which are suitable for 12 months or older.
PUZZLES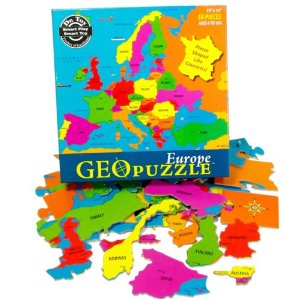 You can't go wrong with a good collection of puzzles! We enjoy the huge collection of Melissa & Doug wooden puzzles with 12 to 24 piece collections. While recently studying the solar system, we bought the Solar System floor puzzle and had hours of fun and learning time building it together. The GeoPuzzle collection (pictured above) is a wonderful resource for teaching geography and have fun assembling these continent puzzles at the same time.
GAMES
Candyland and Chutes and Ladders are fun but not very stimulating in my opinion. Here are some really fun games that are educational as well!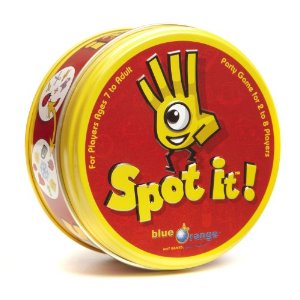 Spot It! - my kids loves this simple game in which you have to find the matching items between each card. There are many different variations to this game, but its fun to know that every two cards have some similar item to spot. Once you find it, you yell, "Spot It!" My daughter is actually quite superior at this game then myself.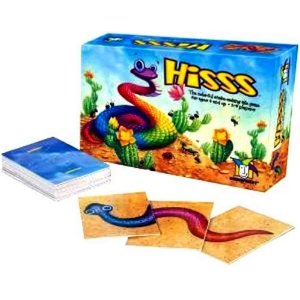 Hiss – this is a new game to our collection this year! As the description states, as each Hisss snake slithers its way across the playing area it introduces color identification and visual logic: Does it make sense to have a snake with two tails and no head? Are those two colors the same or not? Even elementary counting skills come into play during scoring at the end of the game.
My First Uno – a fun stocking stuffer! Learn color and number identification with this fun and simplified version of Uno for ages 3 and up.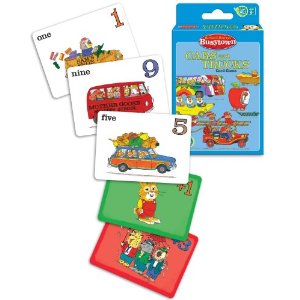 Richard Scarry's Cars and Trucks Game - another fun stocking stuffer game for your little guy that reinforces numbers and counting with a favorite book theme that we all love!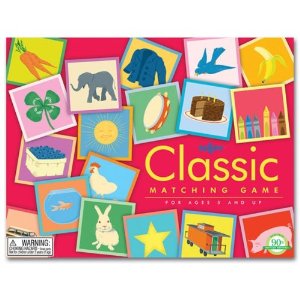 Classic Memory Game – you can't go wrong with the fun game of Memory in this classic and beautiful edition. Eeboo makes multiple different memory games that are all colorful and of high quality. My 3 and 5 year olds both love this game and I have been amazed at how well my little guy does at it!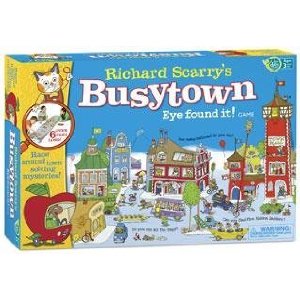 Richard Scarry's Busytown - Before we take our annual vacation every year, our tradition is to buy a new board game that we can enjoy together on the trip. This year we picked up this Busytown game (because we love the book!), and had a blast using the magnifying glasses to find all the items hidden throughout the town. Great teamwork, matching, and object identification game!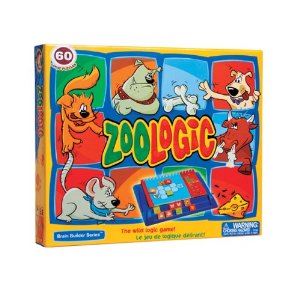 Zoologic - An addictive game of deduction and logic. Players fill in the grid with the animals and food tiles, while avoiding chaos. Can be played together or independently.
Brain Quest - these learning card stacks are a favorite at our house! I love cuddling up with my little ones and looking at the pictures and answering the questions of each set in this collection that teaches essential learning skills advances with their age. I've been using the My First Brain Quest & Brain Quest for Threes as part of our preschool one on one time with my 3 year old son and the Kindergarten set with my daughter. Great stocking stuffer!
For other ideas, check out our Tools Instead of Toys post for a collection of wonderful real life tools and resources to invest in for your children's development and education.
This post includes affiliate links to products that we use and love. Know that we do receive a small percentage of each sale made through these links. Thanks for supporting this site and our family ministry!