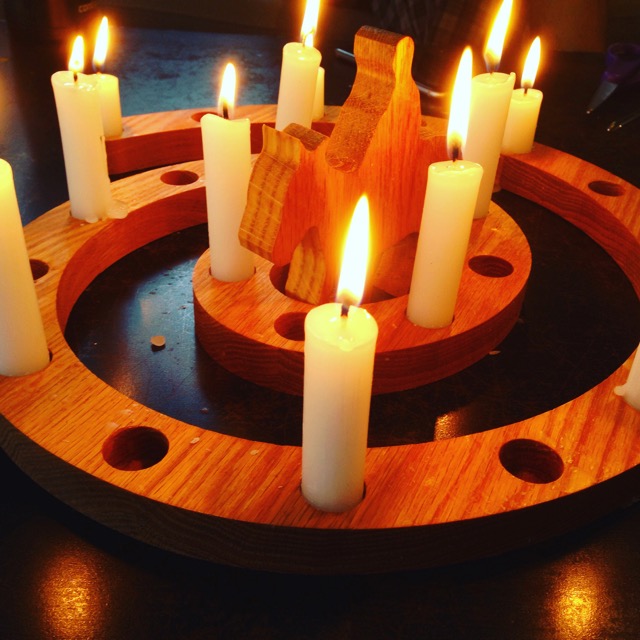 The holidays are upon us, and I just love this time of year! I love making it meaningful and Christ-centered with so many wonderful resources at our disposal. I love pointing my children's hearts to the manger where the greatest love story of all time began, and to set our hearts anticipating the coming arrival of the baby King. I just wanted to share some of our favorite resources we have used over the years to make this time of year special.
This year, we will be taking off from our normal school routines for the full two weeks before Christmas, so we can have extra time for Christmas reading, Christmas themed handicrafts, and baking. These are wonderful learning activities and are a lovely break from the regular school books. We will continue our daily couch time, where we will be reading picture books, memorizing a Christmas Scripture passage, reading and memorizing Christmas poetry, and the like.
Family Advent Devotional
Each morning, during our usual family devotion time, we will light our Advent wreath, and read a section from Let Every Heart Prepare Him Room by Nancy Guthrie. We will be using this excellent and rich devotional this year for Advent. Nancy Guthrie has done a fabulous job providing some meaty biblical content that is short and bit size. It also has a sprinkling of Christmas hymns and their intriguing histories throughout the book.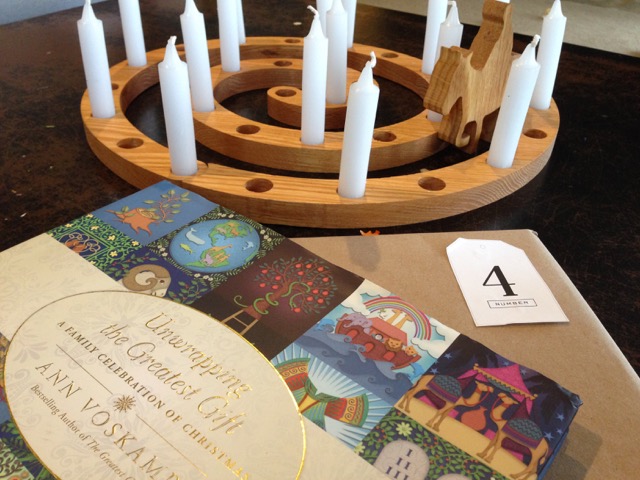 Other great options:
Unwrapping the Greatest Gift: A Family Celebration of Advent- by Ann Voskamp – This is a good devotional to accompany a Jesse Tree style advent (check out our Jesse Tree here), where you put an ornament on the tree to represent various events throughout the story of the Bible, giving the full story of the coming King. My kids have always loved putting the ornaments on the tree. It made the stories so tangible. We have used this book the past several years. Overall, I believe it a good resource, although can be a little overly poetic at times. You have to like her style of writing.

All is Bright: A Devotional Journey to Color Your Way to Christmas – Nancy Guthrie – What a fun resource that has both advent readings and beautiful coloring pages! This book is just lovely and fun. Has coloring pages for adults and children. This has the same content as Let Every Heart Prepare Him Room as I mentioned above, but includes coloring pages.
Prepare Him Room: Celebrating the Birth of Jesus Family Devotional – by Marty Machowski – This devotional has short and meaningful advent readings while incorporating several hands-on activities. An excellent resource, especially for the busy family, as it has just three readings for each week of Advent.
If you have just littles, you will want to check out Truth in the Tinsel: An Advent Experience for Little Hands. I loved using this when my kids were younger.
Advent Circle Time
Each morning, we will snuggle up on the couch for our Christmas themed Circle Time. We will be memorizing Matthew 1:21 and Isaiah 9:6-7 (which we began last year, and will add verse 7 this year), memorizing a Christmas poem (A Christmas Carol by G.K. Chesterton), and doing one Christmas Fun Mad Libs (for laughs and language building). We will conclude our circle time by reading a Christmas picture book (see recommendations below).
In addition, we will have poetry tea time once a week with Voices from Christmas, a lovely poetry book that highlights the perspective of the different people surrounding the nativity, and T'was the Night Before Christmas and other Seasonal Favorites by William Lach. We will also enjoy some of the beautiful paintings from The Christmas Story (Metropolitan Museum of Art). Sprinkled throughout our days at home, and while in the car, we will listen to our annual favorites: Handel's Messiah,  Tchaikovsky's The Nutcracker, Focus on the Family's Christmas Carol (favorite!), Hallelujah Handel!, and Classical Kids Christmas albums. We also have the audio version of The Best Christmas Pageant Ever, because that is another hilarious favorite around here.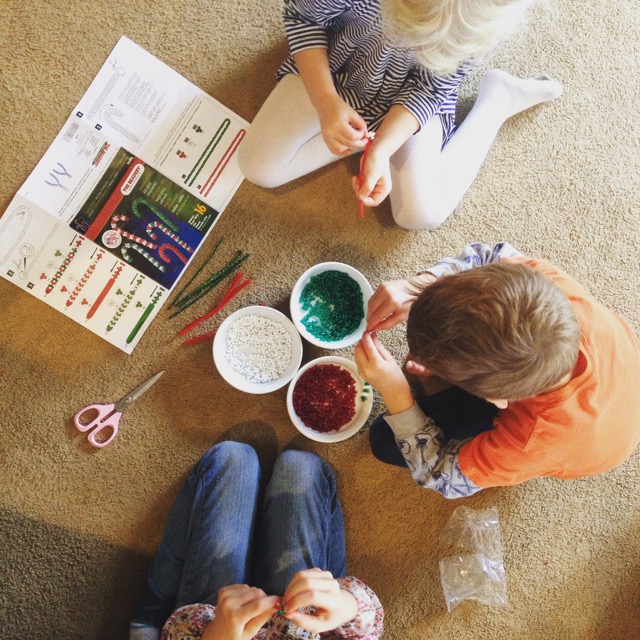 Christmas Activities
I am not a very craftsy mom, but Christmas break gives us a fun opportunity to learn new handicraft skills with a few simple Christmas kits: sewing ornaments, beaded ornaments, origami, etc. And of course, they must be all-in-one kits for this mama. Karis and I made these felt bird ornaments (pictured below) last year and they were super doable and turned out beautifully and teach hand sewing/embroidery skills. We will be making this felt ornaments set this year, and I'll include both my 7 & 9 year olds. They can make a great Christmas gift for grandparents or relatives as well.
We will be using Bake Through the Bible at Christmas this year as a fun baking opportunity to do with my kids. I'll be rotating through each child to give them a one-on-one time to bake with mommy as we work through this book. We will share the finished products with friends and neighbors.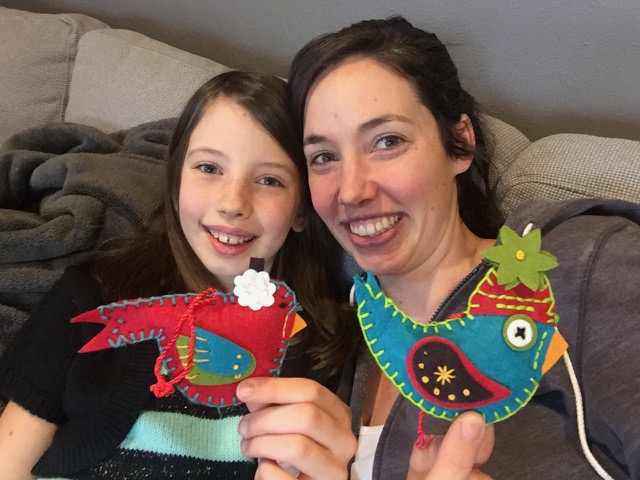 Other fun crafts we recommend:
Beaded Candy Cane Ornaments (all-in-one kit – great for little hands!) – The Beadery Holiday line has some other lovely simple bead kits as well.
Nativity Scene Gingerbread House (so much fun! Or buy a pre-baked all-in-one nativity scene kit)
Nativity Scene Cookies (with these Nativity cookie cutters) – Use these cookie cutters to make a Gingerbread Nativity Scene
Easy Christmas Origami (a fun book for kids to learn origami -see picture below)
Make Cranberry Bread for the neighbors/co-workers – Last year, we made Cranberry Bread (from the delightful book Cranberry Thanksgiving) in miniature loaves to give to friends, neighbors, and co-workers. It was delicious and received rave reviews! Another favorite for gifts is Taste of Home's Pumpkin Bread (oh my! This is the best recipe ever!).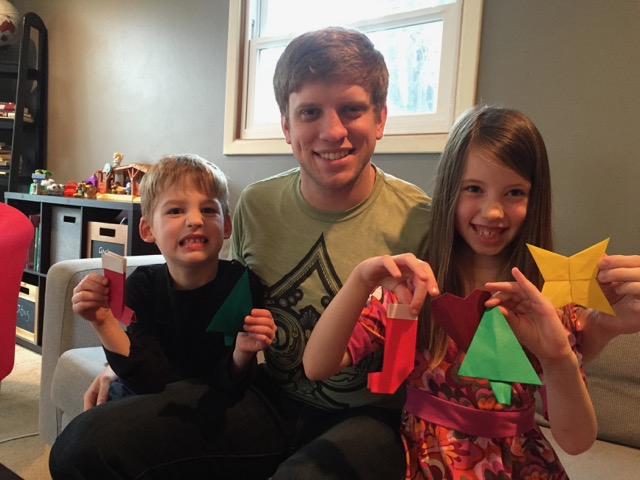 Christmas Family Read-Alouds
In the evenings, we love to snuggle up for a family read-aloud with Daddy. This year, we will be reading Bartholomew's Passage, which is the second in a series of adventure stories centered around the birth of Christ. Need a fun family read-aloud for the holidays?
We have greatly enjoyed all of these titles over the years:
The Best Christmas Pageant Ever – by Barbara Robinson – A hilarious account of one town's attempt at putting on a Christmas play with the most obnoxious family in town taking the lead roles. You can also get the picture book version.
The Christmas Carol - by Charles Dickens – I absolutely love this picture book adaption too! And you can't miss the Focus on the Family Radio Theater: A Christmas Carol. It is fabulous and you'll want to listen to it every year!
The Twenty Four Days before Christmas – Madeleine L'Engle –  A sweet short Christmas tale.
Keeping Holiday – by Starr Meade – Go on an allegorical adventure into the true meaning of Christmas with this story.
Jotham's Journey: A Family Storybook for Advent – by Arnold Ytreeide – These are just delightful adventure stories set during the time of Christ from the perspective of a shepherd boy and his companions. My own parents read this series to my siblings and I growing up, and it has been so much fun to continue the tradition with our kids. Just a little tip: Start before Thanksgiving if you want to complete it before Christmas (gives you a little buffer room). Also in this series, you will want to check out Bartholomew's Passage, Tabitha's Travels, and Ishtar's Odyssey.

Favorite Christmas Picture Books
We absolutely love Christmas picture books! We love pulling out or unwrapping a new title for each day of December. We have done an Book Advent Calendar basket for a few years now, where we wrap up 24 Christmas picture books (in brown paper from Dollar Store) and open a new one each day. I'm not sure I'll get around to wrapping them this year, but I certainly will have a pile to draw from each day. My kids never seem to get too old for picture books, and they still eagerly anticipate pulling out the stash year after year. "Oh, I love that one! I remember that one!" are the cries you will hear around here. I usually buy 1-2 new titles each year (usually from my favorite used book store, Thrift Books), and the rest we get from our local library (and yes, I've wrapped those too!). You can see my previous recommended list here. I have updated with some of our newest favorites below.
The Christmas Promise – by Alison Mitchell
The Year of the Perfect Christmas Tree - by Gloria Houston
The Christmas Miracle of Jonathan Toomey by Susan Wojciechowski
The Town that Forgot About Christmas – by Susan Leigh
Cranberry Christmas - by Wende Devlin
Mortimer's Christmas Manger – by Karma Wilson
Humphrey's First Christmas – by Carol Heyer
The Crippled Lamb – by Max Lucado
The Story of St. Nicholas: More than Reindeer and A Red Suit by Voice of the Martyrs
Fear Not, Joseph – by Julie Stiegemeyer
God Gave Us Christmas – by Lisa Tawn Bergren
How the Grinch Stole Christmas – by Dr. Seuss
A Christmas Carol - by Charles Dickens (adapted)
The Pine Tree Parable by Liz Curtis Higgs
The Legend of the Christmas Tree by Rick Osborne
The Legend of the Candy Cane by Lori Walburg
The Legend of the Christmas Stocking by Rick Osborne
Happy Christmas Advent planning! Would love to hear your favorite Christmas crafts and resources ideas!