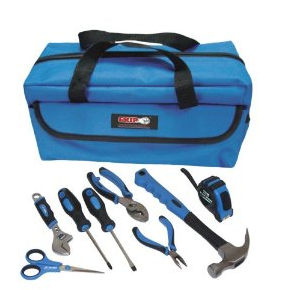 We have been radically purging our toy collection this year to really minimize to the truly best toys – toys that would stand the test of time. And we have discovered that it is the miniature versions of real life things that our children love the most. They love pretending in their dress, their cooking, and their building. They want to be like Mommy and Daddy. What better way to encourage their participation in service and family life then providing them with little tools so they can jump on board with us?
I love what Harvey & Laurie Bluedorn share in their book, Teaching the Trivium:
"Give the child plenty of time to explore and play. Do not buy 'toystore' toys – they are expensive and are usually forgotten after the newness wears off. Invest in real things. Garage sales and auctions are an unending source for things like sewing machines, small tools for working in the garden, hammers, nails, and things for building, some wooden blocks, and dress-up clothes. Buy tools for exploring (a good microscope, telescope, binoculars, etc), not toys for adoring. When your children are young, spend your money on the tools of exploration, and motivate them to learn how to use the tools and enjoy using the tools."
Dress-ups
A big box of miscellaneous dress ups have been one of the most enjoyed items in our home. Every time we have company, all the girls get lined up in their princess/wedding attire and march around the house. Our collection is a random assortment of Goodwill/thrift store items including fancy girls dresses, old wedding gowns, sparkly women's shoes, vintage hats and purses, play silks, and a few Melissa & Doug role play costumes. We will be adding some knight costumes soon as our little boy guests are feeling a bit deprived.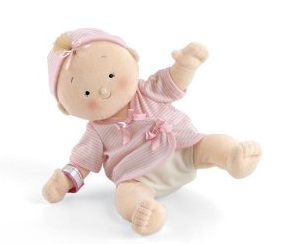 Karis has had one sweet Rosy Cheeks cloth doll and a few accessories that she has loved from 15 months of age. No need for a huge collection…one has been well loved, washed repeatedly, and treasured for over three years, and still holding up strong. Practicing being a little mommy is one of the cutest things ever.
Building tools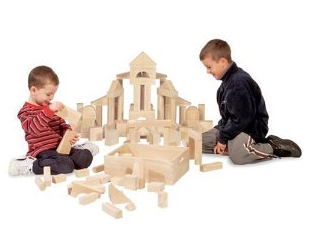 Some basic wooden building blocks have been a fun item to have in our house because their is a never ending variety of things that can be built and torn down and built again. Lots of imaginative play happens here building churches, castles, grocery stores, and more. Melissa & Doug offer two fabulous wooden block sets that are reasonably priced and nice quality.
The little helpers toolbox (pictured above) is an awesome way to include your little people in the basic repairs around the house that need to be done. Working together with Daddy fixing and building things is quality time invested together plus they are learning basic skills at the same time.
Kitchen tools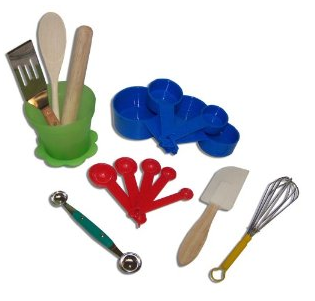 We love the Curious Chef Nylon Knife set as they are safe and easy to use for both my two and four year old. The Sassafrass Little Cook set is a full line up of supplies for encouraging kids to participate in the kitchen. And of course the broom and dust pan is always a hit. There are a variety of fun little chef costumes, aprons, and such out there as well. We made our own little apron for Karis a few years back and she still uses it regularly.
Of course, a cute little miniature kitchen with our own homemade assortment of food items with a little grocery cart have been the top favorite toy in our home.
Garden tools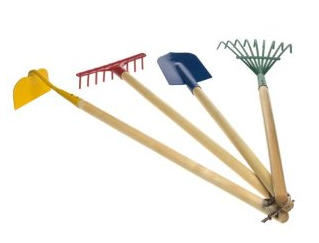 Raking leaves, gardening, weeding, and planting are regular happenings if you have a back yard of any kind. Why not include the little ones and work together? With a kids Big Tool set or garden tool set, they can learn how to help and enjoy the wonders of exploration outdoors in their own free digging play.
Old cell phones & cameras
We have kept a few of our old broken cell phones (or run out of battery life) for the kids pretend play and we experience a lot of laughter as we over hear their conversations calling Aunts and Uncles, Grandma and Grandpa. An old workable digital camera is also fun for little eyes to be able to begin exploring with capturing pictures. Their perspective on life is so precious, it helps keep me treasuring the little things. There are an assortment of kids digital cameras on the market as well which would also encourage that fun explorative creative outlet.
Musical Instruments
We bought Titus a little guitar and xylophone for his 2nd birthday this year and it has certainly been a hit. It has withstood some wear and tear but it has been so much fun to encourage a love for music in our home. Wooden drums, tamborines, and harmonics are other fun instruments for children's play.
Exploring Tools
As the Bluehorn's shared above, why not invest now in some quality exploratory tools, such as a good microscope, telescope, binoculars, etc. Now go out and explore nature together with real tools!
I'm excited to start investing in real tools that will help teach my children valuable life skills while serving together to care for the needs of our family. That real toolbox set is on Titus' birthday list as I can't get over how cute it is! I look at our toy collection now and see wooden blocks, a kitchen set, matchbox cars, and dress-ups, and they get used every day.