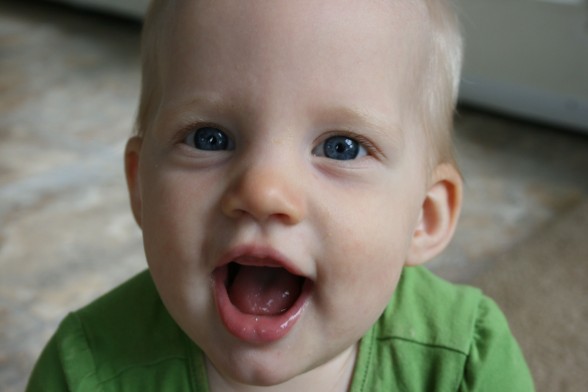 "Who can measure the long-term effects of nurturing helpless infants, supervising wandering toddlers, discipling self-willed children, and counseling self-absorbed adolescents? Of family outings planned, traditions built, memories made, books read, songs sung, Scripture taught? That's why motherhood belongs under the heading, 'Engage the World'; no one shapes generations or fashions cultures more than mothers."

~ Jeff Purswell, Worldliness, (edited by C.J. Mahaney, p. 159). (HT: GirlTalk)
Dear Mother, your work to love and nurture your children is a beautiful task. It is your worship. To raise up children that love and serve Jesus is a glorious mission. To faithfully discipline, train, guide, and nurture them is the work of the Kingdom. Jesus welcomed the little children, and so by welcoming them, getting down and dirty with them, washing off their bumps and bruises, and seeking to be present for them, and loving them as Jesus did, is the most beautiful thing you can do.
"How can it be a large career to tell other people's children about the rule of three, and a small career to tell one's own children about the universe? How can it be broad to be the same thing to everyone, and narrow to be everything to someone? No. A woman's function is laborious, but because it is gigantic, not because it is minute. I will pity Mrs. Jones for the hugeness of her task; I will never pity her for its smallness."

- G.K Chesterton
It is hard. You won't have much free time. In fact, you may seem to have none at all. But each moment that is invested with joy and grace will bring such glory and honor to your Maker. Every little moment invested reading a story, wiping a nose, changing a diaper, teaching a child a chore or task, making messes together, is Kingdom building work. Don't neglect filling up your own cup in the presence of your Lord so that you can freely pour out for them. He designed you for such a purpose…and together, we can change the world.
Be blessed! And may the joy of the Lord be your strength!
"A mother…by her planning and industry night and day, by her willfulness of love, by her fidelity, she brings up her children. Do not read to me the campaigns of Caesar and tell me nothing about Napoleon's wonderful exploits.  For I tell you that, as God and the angels look down upon the silent history of that woman's administration, and upon those men-building processes which went on in her heart and mind through a score of years;—nothing exterior, no outward development of kingdoms, no empire-building, can compare with what mother has done.  Nothing can compare in beauty, and wonder, and admirableness, and divinity itself, to the silent work in obscure dwellings of faithful women bringing their children to honor and virtue and piety."  Henry Ward Beecher - Gene Fedele, ed. Golden Thoughts of Mother, Home & Heaven, pp.75-76.
Happy Mother's Day!
"The world may not applaud us for wiping running noses, driving in carpools, or talking with our teenager into the wee hours of the morning. And until they are trained, our children might not thank us either. But as we set aside our own selfish desires and glorify God by joyfully serving our children, we are pursuing true greatness according to the Bible. Let us do so with tenderness, affection, and with a smile!"

– Carolyn Mahaney