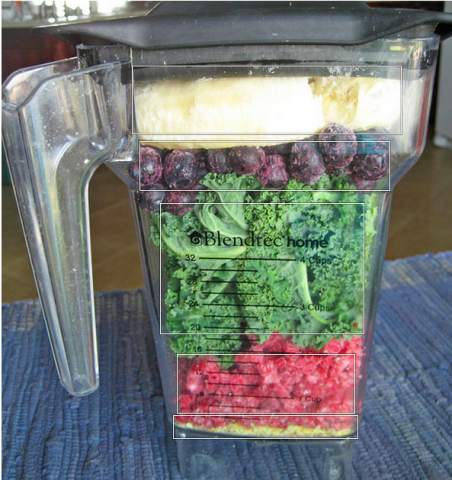 If you are anything like our family, it is rather challenging to get my little ones to eat any vegetables. So we mash and puree soups and some casseroles at the request of my little girl just so the evidence of their existence has disappeared. Salads are another challenging task unless they are nicely sweetened with a raisins and apples. Green smoothies has been my solution for a long time to help supplement their diet and ours as well.
Green smoothies are very nutritious because they are easy to digest, are a complete food because the contain the fiber (as opposed to juices), are enjoyable for all ages and optimal for human consumption (with a recommended 60:40 ratio of fruits to greens), and so easy to make. (Ten Health Benefits of Green Smoothies)
Here are a few tips I have learned in the journey of creating delicious smoothies backed with lots of greens and fruits:
Limit the Ingredients
When I originally started on this quest of creating green smoothies, I tried to stuff everything imaginable in them – multiple fruits, greens, and nutritional herbal powders. Some smoothies would turn out descent, but others were downright gross. I was just trying to get the most nutrition out of one smoothie! I recently discovered that the key to a green smoothie is limiting your ingredients to 3-5 items. Why? "This makes the absorption and digestive process easier on your body and to derive the maximum amount of nutrients from the ingredients you do add." (Green Smoothie Guide).
Find A Good Base 
Some of the best base liquids to use in green smoothies, include yogurt, coconut milk, kombucha or orange juice. I keep all of these liquids on hand to create a variety of smoothies and they add simply delicious flavors and added nutrition with priobiotics and protein from yogurt, healthy fats from coconut milk, and fermented benefits with kombucha. I like to add a bit of orange juice concentrate to most of my smoothies for a touch of added sweetness and flavor. Also, you will always want to keep bananas on hand. I add a ripe banana or two to every smoothie for smooth texture and wonderful sweet flavor. Avacado makes another good base for a similar end result.
Eat Your Smoothies as a Snack
I've also learned the importance of eating your green smoothies as a snack as opposed to part of a meal. It is recommended to eat other foods in a 40-60 minute window before or after eating your smoothie to give your body adequate time to consume the maximum nutrients from the smoothie. So a green smoothie makes the perfect afternoon pick me up before dinner time!
Rotate Your Greens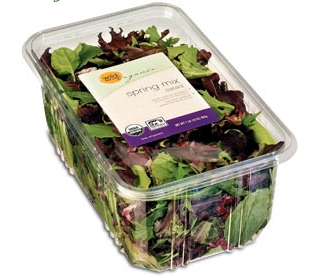 In order for your body to get the most value from your green smoothies, it is valuable to rotate your greens. Celery, spinach, romaine make good choices to rotate through. I have also found that an organic spring salad mix is an awesome option because there are multiple different greens in one mixture including baby leaves of red and green romaine and oak leaf lettuces, lollo rosa and tango lettuces, red and green chard, mizuna, arugula, frisée and radicchio. I buy the 1 lb packages of organic salad mixes (example pictured at right) that are stored in the plastic container and these greens really last in this packaging. Yes, not ideal in plastic. But something about the process of being pre-washed, dried, and packed in this container keep the greens fresh and extend their life incredibly so. I buy 2-3 of these bins each month and they last me at least through the entire month. This is our main green choice but I also love getting celery in there as well. I'm not sure if I'm officially following the rotation of greens idea with this mix…but it works for us and we are getting a good variety!
Here are some of the combinations we like best. Have fun and be creative!
Banana + salad mix (I like to stuff my blender full!) + 2 oranges + 1 can coconut milk + 1 Tbsp concentrate = creamy orange julius!
Banana + salad mix + 1 cup raspberries + 1 cup blueberries + 1 cup of grape juice = berry delicious!
Banana + 1 apple + 3-4 stalks celery + orange juice concentrate + water/kombucha = light apple kick!
Banana + frozen mango/pineapple + lots of greens + orange juice concentrate & water/kombucha = citrus bliss!
Banana + salad mix + strawberries + orange juice = strawberry banana delight!
Looking for some more recipes to get you started? 
Check out these free guides:
The Green Smoothie Guide (download from the sidebar of Raw Smoothie Recipes)
Fruit & Green Smoothie Recipes
Green Smoothie Web App – tons of recipes with the ability to search by ingredient! They also offer an iPhone app for $1.99.
Photo Credit - I didn't have my own picture to share…but this Blendtec photo looks incredibly similar to our daily concoctions! We use a Blendtec at our home on a daily basis if not multiple times a day and we love it!