Coconut oil and raw shea butter are the perfect combination for a safe, natural and simple diaper cream or hand lotion. Shea butter is wonderful for its natural healing and moisturizing properties. It is rich in Vitamins A, E, and F, which help to soothe, hydrate, and balance the skin. Make sure to select raw shea butter, because many companies use bleaches, deodorizers, or chemicals to alter the scent and appearance of shea butter. These processings deplete the product of its healing and medicinal properties, and also destroy the vitamins and minerals present. You will know if it is raw by its distinguished nutty smell. Coconut oil is also very nourishing and moisturizing to the skin and has great anti-bacterial and anti-fungal properties.
This is definitely a powerhouse for defeating yeast infections as well. We love it now! I used to have to switch my babies over to disposables when a rash hit, but with this salve, it heals wonderfully even when wearing cloth diapers. I recommend using a thick doubler/liner when applying this salve if you use cloth diapers to protect their warranty. My dipes are out of warranty, so we use it directly on their bum with the diaper and it has not caused any repealing issues. It washes out beautifully. This recipes works for a awesome natural lotion as well, helping to sooth dry and cracked skin. You may want to add some lavender (or other) essential oil for fragrance for use as hand lotion because shea butter gives it a nutty smell and may not be preferred if you like a real fragrant lotion.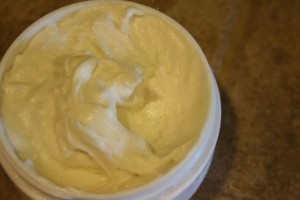 How to make your own?
1/8 cup coconut oil (extra virgin is preferred)
1/4 cup raw shea butter
3-4 Tablespoons talc-free cornstarch or arrowroot power (optional, to thicken) -Learn more about avoiding talc here.
Combine coconut oil and shea butter in a small bowl with a hand mixer or stick blender. You may have to soften the shea butter just slightly over very low heat in order to incorporate them well together, but it should combine well with a mixer. Add cornstarch or arrowroot a tablespoon at a time until you achieve the desired thickness. It will look similar to a whipped icing.That's it! Transfer to a small covered container and place at your changing station. Keep a small portion in the diaper bag as well. Apply liberally with each diaper change as a preventative and rash salve. There are many more complicated homemade varieties out there, but this simple recipe has done the trick for us! Makes about 1 cup.
We buy our extra virgin coconut oil and raw shea butter from Mountain Rose Herbs. You can use refined coconut oil on the skin as it is a cheaper variety. Unrefined is preferred for eating.
This post is a part of Fight Back Fridays.
Passionate Homemaking is an affiliate of Mountain Rose Herbs and will receive a small percentage of sales purchased through our links. Thank you for your support!