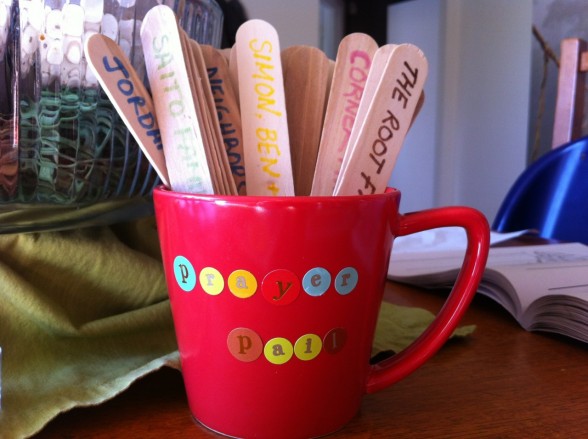 The Lord has been doing a stirring in my heart about the importance of prayer. It is a discipline that is easily slipped under the table. I want to be intentional about teaching my children how to pray. I want them to grow up with a heart and love for others. I want them to be aware of the great battle for the gospel that is taking place outside our doorstep. I want them to care for the lost. How can this be done?
I stumbled upon an idea on Pinterest a few months back about putting together a prayer pail. It has been the best thing we have found to help cultivate a heart and love for prayer in our family.
Basically, you take large craft sticks (the wider popsicle sticks), and write the names of individuals, countries, ministries, neighbors, and whoever or whatever the Lord might lay on your heart to begin praying for on a regular basis. We decorated a cute mug and labeled it with stickers as our "prayer pail."
Some of the people we have included:
Grandparents, Relatives
Leadership in our church
Our City
Our President
Our neighborhood
Sick friends or family
Members in our community group
Our sponsored children
Non-Christian friends we are seeking to show the love of Christ to
Other charity organizations we give to: Pregnancy Resource Center, Orphan home in India, Wycliffe Bible Translators, etc
Persecuted Church around the World
Human Trafficking
Ministries in our church
Then, every night around the dinner table, each family member takes a craft stick and prays for the listed person/ministry. For our littlest members, my husband and I will pray and have our child repeat after us, so that they can grow in understanding how to pray. Both our children absolutely love this routine. Every night they will faithfully remind us to pick a stick! And without doubt, they are eager to pray. It is the sweetest thing. We have no excuse. It helps keep us accountable and faithful in praying for the needs of others around us. Our eyes are being opened to see that there is greater needs beyond our own. And as we seek God's face together, I am confident that God is going to do mighty things! There is power in prayer.
The prayer of a righteous man avails much!