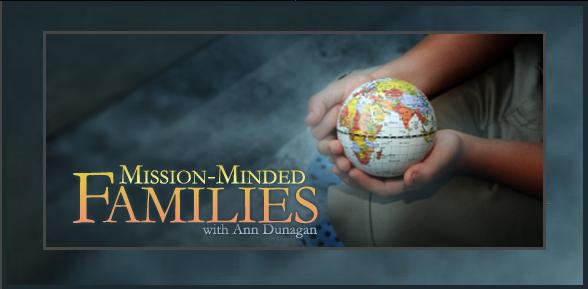 by monthly contributor, Ann Dunagan of Harvest Ministry
To read part 1, visit here.
As moms, we have a vital role in releasing our boys to God's destiny — through our consistent discipline and biblical encouragement. Empowered by God's grace, our boys can hit God's target for their lives; but we need to aim these arrows "toward" God's bulls-eye, not merely "away" from the ground, or the sky, or some random tree. In parenting (led by our husbands), it's much more fruitful to focus on the YES-side of advancing God's kingdom, rather than on the NO-side of man's legalism.
Boys long for adventure, and they long to be men.
Just look at this awesome newspaper ad from over a hundred years ago. The famous explorer Ernest Shackelton didn't mince any words, and he didn't make it sound easy as he was recruiting men to accompany him on a dangerous South Pole expedition . . . and thousands volunteered.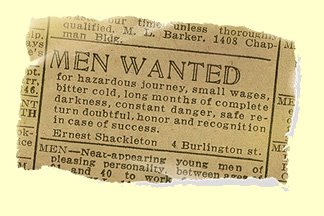 II Timothy 2:1-7, and 19-22, contains 7 KEYS for training our boys to be men:
vs. 1 "You therefore, my son, be strong in the grace that is in Christ Jesus."

KEY # 1: Let's train our boys . . . to to be strong in God's GRACE — We need to teach our boys to love God and to obey whatever He says, not relying on their own strengths or abilities (or being discouraged by their weaknesses or inabilities), but trusting in God's grace and relying on His power. What God will tell our sons to do, He will enable them to do.

vs. 2 "And the things that you have heard from me among many witnesses, commit these to faithful men who will be able to teach others also.

KEY # 2: Let's train our boys . . . to LEARN and to LEAD. — We need to train our boys to be teachable and completely submitted to God. They need to learn how to be under authority, and how to be servant-leaders — so others can eventually follow their leadership.
vs. 3 "You therefore must endure hardship as a good soldier of Jesus Christ."

KEY # 3: Let's train our boys . . . to ENDURE HARDSHIP.– Let's raise our boys to not be wimpy, but strong and uncompromised; to have a heart for the persecuted, the lost, and the needy; to stand-firm against injustice; and to boldly advance God's kingdom and His righteousness.

vs. 4 "No one engaged in warfare entangles himself with the affairs of this life, that he may please him who enlisted him as a soldier."

KEY # 4: Let's train our boys to be . . . UNENCUMBERED and SOBER-minded. — We need to train our boys to not be like the world, bogged-down, selfish, or distracted. They need to learn to guard the gates of their lives (their mind, eyes, ears, and tongues) — to focus on God's glory.

vs. 5 "And also if anyone competes in athletics, he is not crowned unless he competes according to the rules."

KEY # 5: Let's train our boys . . . to GIVE it ALL they've GOT! — to be men of integrity and character, with discipline in every area of life — spiritually, mentally, financially, educationally, socially, and even physically.
vs. 6-7 "The hardworking farmer must be first to partake of the crops. Consider what I say, and may the Lord give you understanding in all things."

KEY # 6: Let's train our boys . . . to WORK HARD. – We need to teach our boys to understand the value of money, and to know how to invest in the future — to make a generous difference for God's kingdom, with self-control and financial patience.

vs. 19-22 "Nevertheless the solid foundation of God stands, having this seal: "The Lord knows those who are His," and, "Let everyone who names the name of Christ depart from iniquity. "But in a great house there are not only vessels of gold and silver, but also of wood and clay, some for honor and some for dishonor. Therefore if anyone cleanses himself from the latter, he will be a vessel for honor, sanctified and useful for the Master, prepared for every good work. Flee also youthful lusts; but pursue righteousness, faith, love, peace, with those who call on the Lord out of a pure heart."

KEY # 7: Let's train our boys . . . to be SET-APART for God.–We need to raise our boys to more than "ordinary" and "common" guys, but boys who are God's chosen vessels — set-apart to push back darkness, and to advance God's kingdom.
My husband and I have always believed seriously in the need to train our boys to be men. Today's world needs righteous men to advance God's kingdom, not just sons who aren't "too bad" or merely "good little boys." As women, as wives and as moms, let's release our husbands, our young men, and our boys — to rise up and take leadership against the sins and injustices of this world, for the glory of God.
Let's train our boys to be men.
"That our sons may be as plants grown up in their youth . . . "
Psalm 144:12