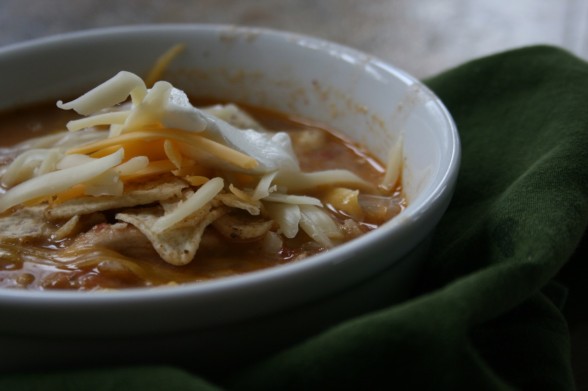 This soup has been a favorite on our dinner menu over the last few months…we just can't get enough. It has such a rich flavor and incredibly satisfying for every cold night! Need I say…yum!!!
1-2 skinless, boneless chicken breasts
1/2 teaspoon olive oil
3-4 garlic cloves, minced
1/2 teaspoon ground cumin
4 cups chicken broth
1 cup frozen corn kernels
1 large onion, chopped
2 celery stalks, chopped
2 zucchini, diced
1-2 cups black beans, as desired (or 1 -15 oz can)
1/2 teaspoon chili powder
1 tablespoon lemon juice
1 cup chunky salsa (we use our homemade fermented salsa – yum!)
1 tsp sea salt (add if you are using your own homemade broth, season as desired)
8 ounces corn tortilla chips
1 cup shredded cheese (we use raw cheddar, but you can use monterey or peppered jack)
Sour cream, optional
 Directions:
1. Brown chicken breasts in olive oil until fully cooked or you may boil them in a medium pot of boiling water until they are cooked through. Remove from pan, cool, and then shred with two forks.
2. In a large pot, saute onions, zucchini, and celery until soft and browned. Add cumin, garlic cloves, chicken broth, corn, black beans, chili powder, lemon juice, salsa, salt, and shredded chicken. Bring to a boil and then turn the heat down to a simmer and cook for 20-30 minutes.
3. Break up some tortilla chips in the bottom of each bowl and pour the soup over the chips. Top with sour cream and cheese.
Crockpot adaption: In a crockpot, combine all your ingredients, except chips and cheese. It is easiest to leave chicken breasts whole until they are fully cooked, then pull them out and shred them with two forks and place the chicken back into the pot during the last hour. Cook on low for 4-6 hours in your crockpot. Break up some tortilla chips into individual bowls and pour soup over chips. Top with cheese and sour cream as desired.
Yield: 6 servings.