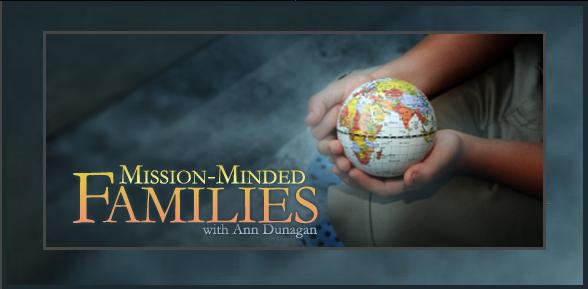 by monthly contributor, Ann Dunagan of Harvest Ministry
A while back, at a ladies retreat, one of the women's speakers began to passionately address the needs of today's Christian men. As she asked a hypothetical question, "Where are all the MEN today?" several young women pointed toward me and shouted, "They're at the Dunagan's!"
Wow. As everyone laughed, I shook my head and smiled, and enjoyed an incredibly proud momma-moment (and I could hardly wait to get home to share the story with my guys!).
My husband, and our five sons (currently ages 11 to 25), have definitely had their share of adventures — climbing mountains, hiking into remote unreached villages, running triathlons and a marathon, sleeping all night in frozen igloos, and bringing justice into war-torn areas (both in proclaiming the Gospel of Jesus Christ in the midst of a Rwandan genocide, or preaching during civil wars in Sudan or Congo; or for one son, in commanding USMC snipers in front-line military battles). Right now, I have one 15-year-old son tanning a bear hide in our backyard; one college son preparing for a mission trip to Germany; and one newlywed son starting a remote Bible school in SE India. They're tough guys, physically and spiritually. They do pullups. They know how to pray. And they know how to give their mom some big strong hugs!
My husband, and our boys, are dangerous men for the kingdom of God; and they've lived through more dangerous situations than I can remember: smuggling Bibles into Communist China, preaching in a tin building being stoned by angry Islamic rioters, and surviving a life-threatening storm on an Antarctica-bound expedition.
So as a woman, and as a mom, how do you think that affects me?
Well I'll tell you one thing. As a wife and mother who wants her men to be mighty for God, I have learned that "worry" is not my friend. Being fearful is not the "responsible momma-attitude" to have; being worried is not the same as showing love; and fear doesn't do anybody any good.
Fear is the opposite of faith.
Do you realize the Bible tells us in Philippians 4:6, to "be anxious for nothing." Moms, did you hear that? NOTHING. That means NO THING. NOT EVEN ONE THING. No worries. No fear.
We're not to worry about money. We're not to worry about the future. We're not to worry about our husbands. We're not to worry about our boys.
NOT EVEN ONE THING!
Try that when your husband is preaching in an area controlled by witchdoctors who want him dead, or when your son is fighting in Afghanistan and you haven't heard from him in a month.
But by God's grace, it's possible, and it's a thrilling way to live.
If I want my men to be dangerous for the kingdom of God, I need to be dangerous too. Over the years, God has shown me that I need to be WARRIOR in prayer and intercession, and not a WORRIER.
Today's world desperately needs REAL MEN; and as mothers in God's kingdom, we need to do our part to raise our boys to make a difference.
Recently, William Bennett addressed the situation of today's men. In an article, "Why men are in trouble" he writes how woman have made huge strides in achievement, but men are falling behind. Did you know that men now account for less than half of today's college degrees? Young men are lacking in maturity, in work skills, and in the discipline (and desire) necessary to provide for a family.
The current situation has led many young men, even in the church, to be floundering. Many guys are without self-control, without work, and without a fervent passion for God. Young men hunger for adventure, yet their desires will never to be met by watching high-action movies, or by becoming an expert in video games. And they don't need us as women and as moms to tell them to just sit still in church and be good little boys.
We need to release our husband from our fearful (we can do it better) control; and together as a husband and wife, we need to raise our boys for daring kingdom leadership.
As wives, and as mothers, we need to let our men be men.