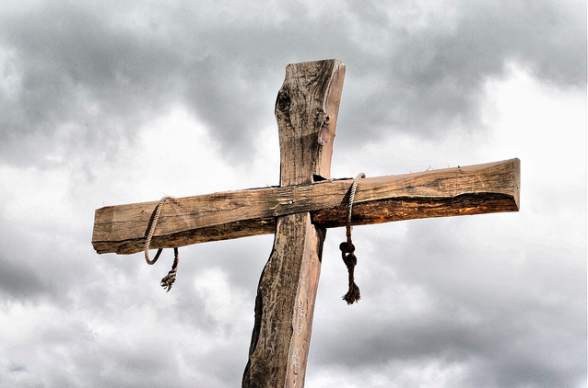 I have been convicted lately considering how much thought and intentionality I love to put into preparing our hearts for the birth of Christ during the Advent season and then how little thought I take to preparing for the ultimate accumulation of Christ's life in his death and resurrection that is the focus of our Easter celebrations. It usually just comes upon me with little to no thought or preparation. In light of this, I felt like this was the year to begin cultivating more intentionality in celebrating this glorious occasion which is the foundation for our faith. I am beginning early by preparing a list of activities that our family could complete during the lent season of preparation. There are 40 days of Lent, which starts on Wednesday, February 22, this year. I have decided to compile these activities on cards that could be completed throughout this 40 day period. These activities are primarily for young children but could be adapted as necessary. Pick and chose any of these ideas for your own use as desired. I hope to do 2-3 of them each week during Lent.
1. Make a Jesus Tree.
During the Advent season, we like to make a Jesse tree with symbols representing stories throughout the Old Testament that led up to the birth of Christ Jesus. For Easter/Lent celebration, why not make a Jesus Tree with images or symbols from the life and death of Christ. Find ideas to make your own Jesus tree here or buy a complete kit here.
2. Start a Garden.
Start a garden indoors to help your children understand the death and rebirth of Christ. Plant little lettuce seeds or whatever seeds you desire. Explain how the planting symbolizes the death of Jesus and how the sprouting seed symbolizes His rebirth. When Easter arrives, transplant your seedlings to your yard.
3. Make pretzels.
Pretzels were a common fasting food among early Christians, and they were traditionally made of flour, water and salt. The shape of the simple food signifies the arms crossed in prayer. Share your pretzels with a neighbor or family you are seeking to reach out to.
4. Make hot cross buns.
Hot cross buns are also a traditional Lenten bread. Make some with your children while explaining how they are important in the celebration of Lent. The buns may have originated in the 12th century, and the frosting is applied as a cross. Younger children can make simple, bread-shaped crosses to give to grandparents, friends and other family members.
5. Make Easter Story Cookies.
6. Make a Salt Dough Crown of Thorns. An alternative idea: make a crown out of playdough and toothpicks.

7. Make a "Stained Glass" Cross.
8. Encourage a Heart for World Prayer.
Lent is a season of focused preparation and a great opportunity to focus on praying for the world around us. Traditionally, the first Friday in Lent is celebrated as a World Day of Prayer. Chose a continent to focus on during each week leading up to Easter.
9. Take a Nature Scavenger hunt and collect items that remind you of the life of Jesus.
Two sticks could be used to form a cross, a stone could represent the stone across the tomb, a thorn could represent the crown on Jesus' head, an acorn shell to represent the cup at the Last Supper, long branch to represent a whip, something black (for sin), something red (blood), something white (a clean heart), something green (growing in Christ). Older children can go on a digital scavenger hunt, taking photographs of items that remind them of Easter.
10. Have a foot washing for your family.
Fill a bucket with water. Grab a few towels, and discuss how Jesus washed the feet of His disciples and commanded them to love one another (John 13:34-35). Pray for one another.
11. Read an Easter related book. (See recommendations below)
12. Paint your doorpost for Passover.
Allow your kids to paint red paint on the (paper covered) doorpost to a particular room or the front door of your home to represent the Passover. Read Exodus 12:1-42. Explain Christ's death as the ultimate sacrifice for sin and discuss the significance of God giving up His firstborn son.
13. Help your child understand that Jesus was called "the Lamb of God" (John 1:29; 1 Cor. 5:7-8). Make a lamb craft project with your kids by gluing cotton balls to a paper plate, then add pink and black construction paper eyes, ears, muzzle, nose and hooves.
14. Discuss as a family something that you could give up and give to another or use the money saved on that regular purchase to give to a charity ministry.
15. Listen to Handel's Messiah.
16. Make a "He Is Risen" or "Our Redeemer Lives" poster and hang in a prominent place in your home on Easter morning.

17. Bake something for a shut-in or needy family.
18. Make palm leaf crosses.
19. Act out the "parade" of Palm Sunday as a family.
Take turns being the donkey, Jesus, and the part of the crowd. Discuss that "Hosanna" means "Save us, we beseech thee." Read John 12:12-13. Make palm branches out of green construction paper and decorate the dinner table with your creations.
20. Dye Easter eggs and discuss the new life that has been a symbol of spring since ancient times. Discuss the "new life" that we experience in Christ.
21. Make a sand craft.
Sand is a Lent symbol of how God led the Israelites in their journey in the desert and how Jesus faced temptations for 40 days in the dessert.
22. Collect purple things from around your home.
Discuss how purple is the color of Lent. Purple symbolizes the pain and suffering leading up to the crucifixion of Jesus. It is also the color of royalty and symbolizes the kingship of Jesus in our lives. Wear something purple for the day.
23. Make a Jesus is Risen Tomb Craft. Discuss the significance of Christ's resurrection.
24. Watch The Passion or Animated Passion as appropriate for your family.
25. Get Buried in Grave-clothes.
Read Matthew 27:57-61. Wrap up one of your children in toilet paper, or "grave clothes". Allow the child to break free from the toilet paper and talk about how sad the disciples must have felt and how happy they must have been when they saw that Jesus had conquered death.
26. Find your own grave stone.
Go to a park, search for an oversized boulder and try to move it. Read Matthew 27:62-66; 28:1-4. Discuss how a large stone couldn't keep Jesus in the tomb and how surprised the soldiers must have been when it was rolled away.
Sources:

Christian Lent Activities for Children

Great Books/Resources for Easter:
The Animated Passion Film
The Passion Film
The Gospel of John film (this is our favorite adaption of the life of Jesus)
From Trail to the Tree: A Family Devotional for Lent from Ann Voskamp (with printables for your own Easter/Jesus tree)
Bread and Wine: Readings for Lent and Easter - deep thoughtful articles from many classic authors (C.S. Lewis, Bonhoeffer, Chesterton, etc.). A great choice for a couple to read together or for families with older children.
Jesus, Keep Me Near the Cross by Nancy Guthrie – another wonderful compilation of short articles by various authors that will help draw your heart to the Cross during this season.
A Season of Lent - devotional guide for the seven weeks leading up to Easter with a focused thing to fast from each week
The Very First Easter
The Tale of Three Trees – a fun children's story
Benjamin's Box (best used with the Resurrection Egg symbols)
The Legend of the Easter Egg – a fun children's story
Resurrection Eggs – we have used these cute visual and select Scripture passages for meaningful discussion on Easter. Hide them and have kids find them and open one by one as you retell the story.
Felt Easter Banner – check our the Heart Felt Truths etsy shop for this fun homemade easter banner that provides you with meaningful visuals for Holy Week with felt icons and Scriptures passages for discussion. Very cute! Make your own instructions here.
(Some of the resources recommended here are affiliate links. We always seek to recommend products that we have used and love! If you purchase through our affiliates, you are helping to support our orphan home in India. Thanks!)