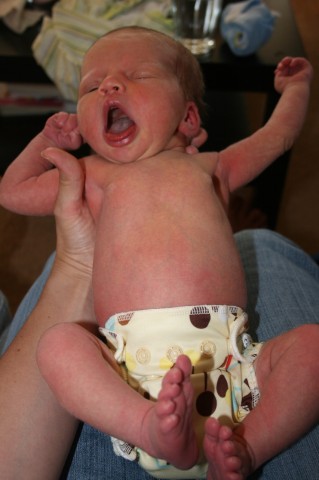 I have always loved to cloth diaper by babies since my first born, Karis, was just a few months old. It's not just the cost savings and environmental benefits that appeal to me, but also the pure cuteness of cloth diapers. I appreciate putting something completely natural against the skin of my babies, but I also love the pleasure that comes in simple sustainability. With the huge selection of cloth diaper choices available on the market today, with the wealth of cute patterns and colors, I don't know why any one wouldn't want to at least try cloth diapering.

We decided it would be best to use disposables for the first week while I was in recovery so I wouldn't have to think about washing them, but I was so eager to start trying out our sampling of newborn diapers that I only lasted 4 days! We are huge fans of one size pocket diapers at our home, and have always used Bum Genius pocket diapers, which fit well starting around 10 pounds and continue through potty training. Since most babies cannot fit into that size right away, it is nice to have a collection of newborn diapers to use for the first 1-3 months. Here is my review of the newborn cloth diapers we tried.
Grovia Organic Newborn All-in-One
The Grovia Organic ($14.95 per diaper – pictured above on Eden) is a very nice comfortable diaper with an excellent fit and easy to use. I did not find the lower row of snaps to be useful at all, but my baby was also nearly 8 pounds, so she immediately went into the top row of snaps. I love the durability of snaps, so that is my preference. But I did find that AIO's in general take an excruciatingly long time to dry in the dryer and this was no exception and the absorbency was certainly lacking. The side gussets tend to leak unless changed frequently. Doubler was required. My baby grew out of this diaper at 10 pounds.
Bum Genius Newborn All-in-Ones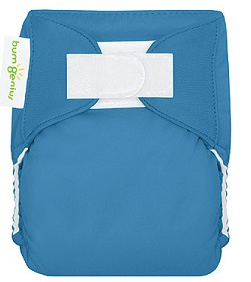 Since I love the style and fit of Bum Genius pocket diapers, I was eager to try their newborn all-in-one style ($12.95 per diaper). I found it was very wide on the crotch making it difficult to get a really good fit and more bulky. While the velcro tabs are easier to put on a baby, these diapers starting piling very quickly, especially as the tabs share a center laundry tab in the center back of the diaper, and easily came undone in the wash. For an AIO, they surprisingly did not take that long to dry in the dryer, but the absorbancy was lacking. I found I had to use a doubler (the Bum Genius newborn inserts, which come with the purchase of a one size diaper, worked very well as doublers by simply folding them in half lengthwise inside the diaper) inside every diaper otherwise I would have a leaking accident nearly every time. From my experience, AIO diapers just don't have the absorbancy like pocket diapers. With the required use of a doubler for us, baby grew out of these at 10 pounds as well.
Prefolds & extra small covers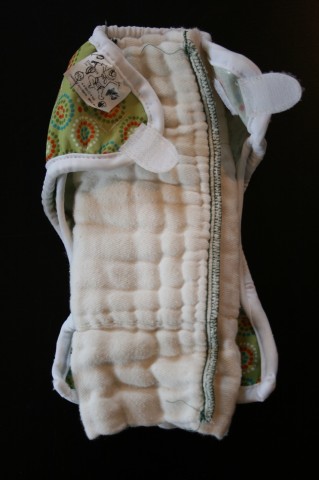 For my first two babies, we always used simple infant size prefold diapers with an assortment of newborn covers. We would fold the infant prefold in thirds horizontally instead of vertically for a more comfortable fit. While it is a more complicated multiple step procedure to put these style diapers on, they had good absorbancy and the fit was always great without leaking. You will find prefolds do add a lot of bulk. A great option for those on a tight budget. I don't recommend newborn size prefold diapers as they have little absorbancy compared to the infant size.
Fuzzi Bunz Perfect Size Pockets -Extra Small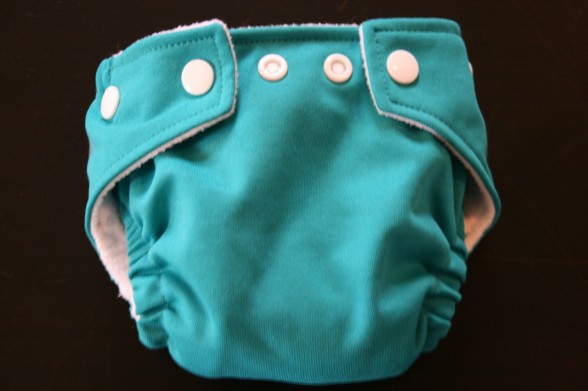 The Fuzzi Bunz extra small diaper ($15.95 per diaper) were certainly my favorite choice among all the diapers we tried! The pocket style made them fast drying and easy to add an extra doubler for absorbancy if needed without being bulky. I absolutely loved the selection of colors available for these diapers. The snaps make them extra durable and long lasting. One row of snaps on this size also made them very quick to put on. She did grow out of them at 11 pounds but they certainly were well used in the interim and have plenty more life left for the next baby.
Kissaluvs Cotton Fleece Size 0 Fitted Diapers
We tried the Kissaluvs fitted size 0 diapers ($13.95 per diaper) when Titus was a newborn and I found them just has complicated as prefold diapering with the two step process of putting on the fitted diaper and then putting on the cover. It was certainly less bulky than prefolds. The fabric originally was very soft but within a few washes they were very rough in texture and caused irritation to the skin. They also were soaked through very quickly. In the end, I honestly preferred the prefolds and covers.
Kawaii Baby Pure & Natural Diaper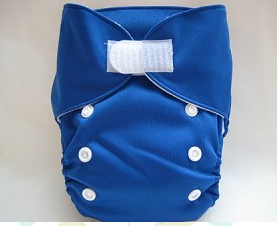 The Kawaii Baby Pure & Natural is a remarkably great diaper for the price ($7.95 per diaper). With its multiple snap levels, this diaper will fit roughly from 6-22 lbs. The crotch is nice and narrow giving a nice fit without excess bulk. The pocket style makes them fast drying and easy to use. The only problem I found was the velcro laundry tabs did not hold in the laundry, causing diaper chains. And the stretchy tabs are incredibly wide, making it difficult to use for a very petite baby as the tabs fold over each other. I found that while I did have the tabs folded over each other they did not come undone most of the time. My baby's are pretty skinny, so I don't think this would be a problem for the average user. They have held up very well as we continue to use them. They also don't have a good selection of colors – which is disappointing for me as a cloth diapering momma whole loves bold cute colors!
Rumparooz Lil' Joeys All-in-One
The Rumparooz Lil' Joeys All-in-One ($29.95 for a two pack) come in an assortment of adorable prints. While these diapers are supper cute and have a wonderful fit and have the bonus feature of the fold down snap for the umbilical cord, I found these were really designed for preemie's. They are very small in size and will not last the average child to 12 pounds as they say. We never used the snap down feature (Eden's cord fell off at 4 days) or the bottom row of snaps because of her size. They were the first for my baby to grow out of around 9 pounds or so. It did also take the longest of all the diapers to dry, but then again it had the best absorbency because of its extra thickness compared to the Bum Genius and Grovia.
So overall, was it worth it to invest in a stash of newborn cloth diapers? Yes and no. First off, the newborn AIO and pocket diapers that we tried were certainly far easier to use than our previous prefold experiences. They were far less prone to rashes. Secondly, I was able to buy most of our newborn stash used which certainly saved us money. We could then either sell them again for the same or slightly less than what we paid for them, or we could keep them for the next baby. But I was certainly disappointed that my baby grew out of most of them by the time she was 1 month old. Buying disposables would be comparable in price for that short of time. So the value does depend upon the growth rate of your child. My first child wasn't 10 pounds until she was 2 months old – so they would have extended longer in that case. If I were to do it again, I would certainly consider just using the Kawaii Pure & Natural diapers, because they were the best priced for the longest use because of the two size adjustment.
Obviously these reviews are my own personal preference and any other might have a different opinion. Please take this as simply a reference from my experience.
Stay tuned for a fun newborn giveaway soon!