I have humored myself by all the things that I have bought and sold on craigslist in preparation for each of our kids. I've tried this swing, and that stroller, and this bouncer. There is this certain hype and excitement about having a baby that leads you to want to find the best of everything that would be suitable to meet your needs. Just enter a baby store and you will likely be overwhelmed by the walls of stuff that claim to sooth that colicky baby, or is essential for a peaceful nights sleep, etc. It has finally taken me to this third little one when I have finally figured something out…your baby doesn't really need much at all. I've known it in the back of my head…but I still wanted to all least try it all. You think it would be obvious. But its fun. It's exciting to do the research for the best stroller, car seat, bassinet, etc. But in reality. Your baby only needs a little tender loving care. And we have to be on guard against wasting too much time in this preparation and planning stage.
So as we welcome our third little one, we have narrowed down our baby supply list significantly…
1. Changing Table on Top of Dresser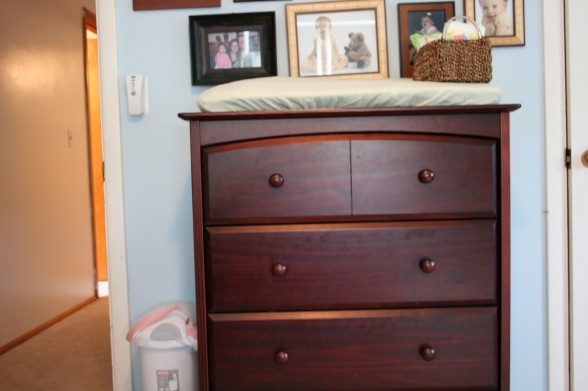 I have found this to be the best idea ever! It can change from room to room as needed or removed to the floor. It saves space as it eliminates any need for an additional changing table.
2. Bassinet
A simple Moses Basket will honestly suffice for a baby bed for quite some time. They are easy to transport, bring traveling, and save space. We use the Contours Classic Kolcraft bassinet (thanks to craigslist once again!) that has the removable Moses basket with additional storage beneath which stores baby clothes, blankets, cloth diapers, and burp rags. Simple, cute, and serves us very well.
3. Swaddling Blankets
I loved swaddling my babies for the first several months of their lives. The best choice here is the Aden & Anais Muslin or Bamboo swaddling blankets. They are simply a large piece of wonderfully soft material that wraps snugly around your little one for swaddling. Baby sleeps so much better in this fashion.
4. Burp Clothes
We have found the best option for burp clothes is some simple indian/chinese prefold diapers. They are the most absorbent, useful, and durable. Chose in a premium/toddler size for the best coverage.
5. Baby Carriers
I am a huge fan of the ergo baby carrier!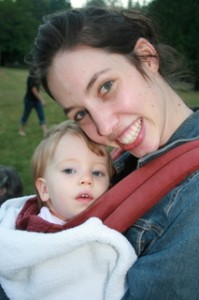 This was the best investment we have made. We tried the standard bjorn and found it extremely uncomfortable to the back. The ergo provides more significant support and works in three different positions (front, back and side). We also love the Moby Wrap as a snug comfortable hands free fit for the early months of life.
These are a few additional items that all our baby's have really enjoyed, but certainly not essential:
This item is compact and easily movable! This works especially well in small places and can be easily transported upstairs, which was a very nice feature. We also took this with us on a few vacations. It doubled as a bouncer. Worked well from 0-6 months.
I remember the days my younger siblings entertained themselves for long periods of time in this jumper! Great for developing the strength in their legs, small, and lots of fun! I have seen them for $10-15 on craiglist or garage sales. We borrowed a Graco one with a basic tray, which works well for snacks or to give them small things to play with. Works well from 6-10 months or so.
This was a borrowed hand me down from my family. This worked very well as both my kids learned to walk. They both used it for several months, followed by standing up on the edge and using it as a push toy. It worked well on both carpet and hard wood floors. Works well for us from 10-15 months, or until they start walking.
We choice a portable space saver booster seat that secures on top of a chair. This works well especially for small places. It is portable which made it wonderful for bringing on vacation or when invited to other friends' homes. Made feeding times so much easier! You certainly don't need a huge high chair that takes up half your dining room! Plus it works great as a transitional seat.
10. Nursing Cover.
This is a handy tool for nursing discreetly in public. Making your own is a fun little maternity project.
Beyond your basic clothes, diapers, basic car seat (whether you choose an infant or convertible style), simple stroller (I don't recommend the huge trailer ones, as we have found more often than not, that a simple umbrella stroller does the job the majority of the time), and eventually a crib of some sort, you don't need anything else. Also, always buy these bigger items used on craigslist! You can save so much money in this manner.
Diaper bag? My favorite has been such a simple large hand bag. My current hand bag doubles as a diaper bag.
Nursing pillows? Nice for the first week but ultimately, you figure it out pretty quickly.
Baby bath? The best place to bath your little one is the kitchen or bathroom sink, just like our mommy's did.
Bath toys? They get moldy. My kiddos are perfectly happy in the bath with just a little toy matchbox car.
Baby toys? Babies will enjoy holding and sucking on practically anything. One or two soft toys is all you need. Sophie the giraffe is the only one on my wish list.
Things we borrowed or bought but then later sold because we found to be nice but ultimately unnecessary in our opinion and mainly adding to clutter were an exersaucer, play mat, car sun shades, and bouncer (the swing covered any need for the bouncer, accomplishing the same purpose).
Overall, I have been amazed how much money you can save by utilizing craigslist! I always recommend that you never buy new. And more often then not I actually made money when reselling various items. It is certainly possible to have babies on a budget!
And of course, feel free to take my recommendations with a grain of salt. This is just my little whisper of experience from my trial and error.