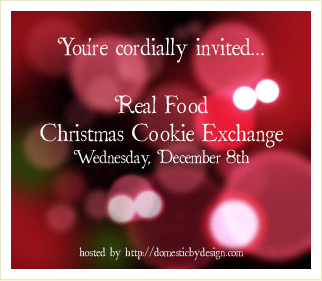 Want to prepare some more healthy treats for the holidays or your upcoming cookie exchange? Or how about preparing some tasty treats for your neighbors this Christmas?
Today we are joining Domestic by Design in sharing a few favorite holiday treats that have been adapted to make them more healthy and nutritious! Check out the fun Real Food Cookie Exchange Carnival and share your favorite recipes! Since cookies are a special treat at our house, we mainly stick with unbleached white flour (or half and half with sprouted wheat), as it gives more tasty, fluffy results. But you can certainly use whole wheat flour if desired. Other than that, I like to use coconut oil and natural sweeteners to give them a more nutritious nature. Here is one of our new favorites!
These cranberry cookies are fabulous! They are soft, rich and flavorful with a splash of red color to make them a perfect holiday treat.
Cranberry Orange Coconut Cookies
Ingredients:
1 cup butter or coconut oil, softened (half butter & half coconut oil works best!)
1 1/2 cups rapadura/sucanat (you can certainly cut back to about 1 cup if using orange juice concentrate or dried cranberries)
1 egg
2 teaspoons grated orange zest
1 teaspoon vanilla extract
2 tablespoons orange juice or orange juice concentrate
2 1/2 cups unbleached white flour or whole wheat flour (increase baking soda to 1.5 teaspoons)
1/2 teaspoon baking soda
1/2 teaspoon salt
2 cups chopped cranberries, fresh or dried (fresh is preferred)
3/4 cup unsweetened dried coconut flakes
Directions:
1. In a large bowl, with a mixer on medium speed, beat butter/coconut oil, sweetener, orange peel, orange juice, and vanilla until smooth and light.
2. In a medium bowl, mix flour, baking soda, and salt. Add to butter mixture, stir to mix, then beat on low speed until dough comes together, about 1-2 minutes. You may have to add 1 more Tablespoon water or orange juice to get it to come together. Mix in cranberries and coconut flakes.
3. Shape dough into 1-inch balls and place about 2 inches apart on an greased baking sheets.
4. Bake in a 350° degrees until cookie edges just begin to brown, 12-15 minutes (shorter baking time will yield a chewier cookie; longer baking time will yield a crispier cookie). If baking two sheets at once in one oven, switch their positions halfway through baking. Let cookies cool on sheets for 5 minutes, then use a wide spatula to transfer to racks to cool completely.
Yield: 3-4 dozen.
Some of our other favorite holiday treats, that would work beautifully on a cookie platter for your neighbors:
Healthy Homemade Fudge
Healthy Peanut Brittle
Gingersnap Cookies
Happy holiday baking!