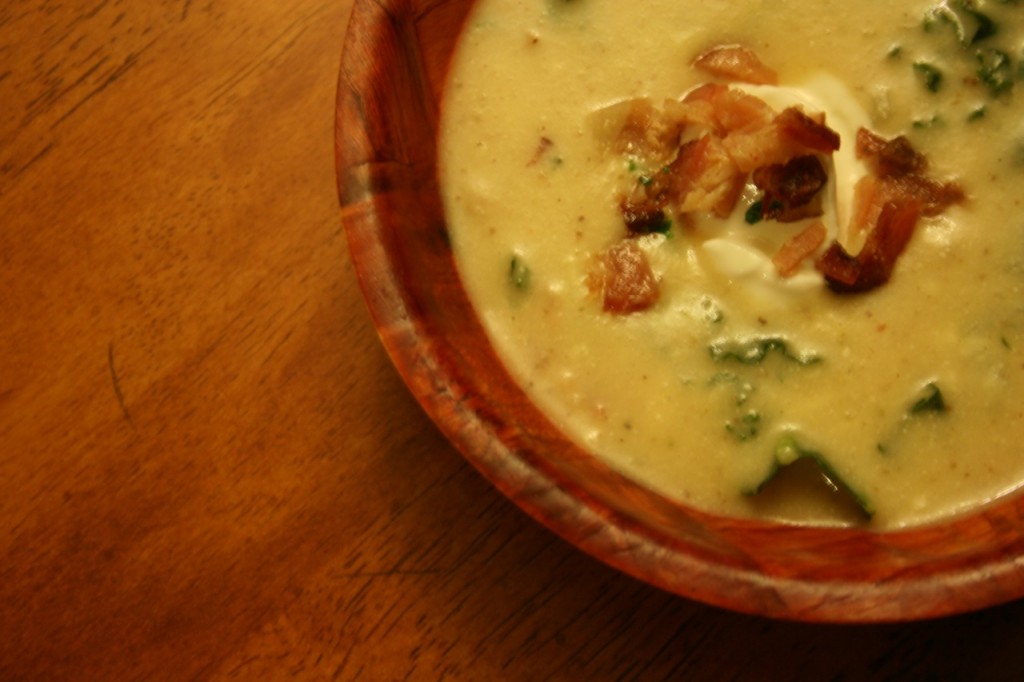 It may be on the end of soup season, but this creation was too good to not share with you all. If you like rich, creamy, warm, and comforting soups, this is definitely one you should try. It is similar in style and contents to my Zuppa Tuscana, but has it's own unique flavor and speciality! It is one of our top favorites!
5 medium russet potatoes
4 Tbsp unsalted butter
2 medium leeks (white and green parts), or 1 large onion, sliced and rinsed well
3 garlic cloves, minced
1 tsp sea salt
1/2 tsp white pepper
4 cups homemade or canned chicken broth
1/2 lb sliced bacon, cooked and crumbled (save bacon grease for sauteing, if desired)
1/2 cup milk
1/2 cup sour cream
1 cup grated cheddar cheese
4-5 kale leaves, chopped, more or less as desired
Directions:
Heat the oven to 375 degrees. Scrub the potatoes, pat dry, and pierce several times with a fork. Set them directly on the oven rack and bake until tender, about 1 hours. Let cool completely on a cooling rack.
Combine butter or reserved bacon grease, leeks/onion, garlic, salt, and pepper and cook, stirring occasionally, until softened.
Add the chicken stock/broth to the leek/onion mixture.
Cut the cooled potatoes in small 1/2 inch cubes. Remove peel on one or two of that potatoes. Set aside one cup of diced potatoes. Throw the remaining potatoes into the pot with the leeks/onions.
Puree the contents of the pot in batches in a blender until very smooth. Return the soup to the pot and reheat over medium low.
Whisk together the milk and sour cream and then whisk this into the soup, along with the reserved 1 cup potatoes, and cheese. Add chopped kale and allow to simmer for 10 minutes or so. Season more with salt and pepper as desired.
Serve garnished with cheese, bacon bits, or green onions, as desired.
Yield: 6-8 servings