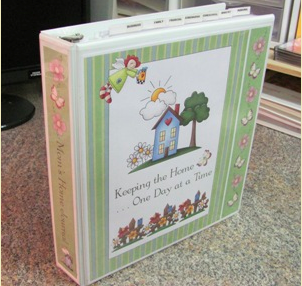 Maintaining a home is a full time job. There is no denying it. It takes time and energy to keep a home running peacefully and harmoniously. Whether you can be home full time or not, there is a need for organization to maintain this restful environment through which our husbands, children, and friends can find solace. Until recently, you could find many small to-do lists, schedules, menu plans, scattered random receipts, financial notes, papers, and the like spread out over my home. Some might be in the office, some in the kitchen, some in my purse. I had a haphazard cleaning schedule in the back of my mind. I had a homemaking notebook but it only had some random articles that I wanted to save and not much more. Do you experience this scattered feeling?
I suddenly got inspiration after viewing some of Stephanie's planning pages to get organized in this area. I am so glad that I did. I collected everything into one home planning notebook. Ahh…so much more peaceful. I wanted to share with you what my homemaking planner looks like…but be sure that your notebook can take any shape or form. I pray this might provide you with some inspiration to get started. Organization is an important habit to cultivate, and I need it just as much as the next homemaker.
What Your Need?
1 3-ringed binder
Dividers
Sheet protectors, if desired
Planning sheets (check out the resources below)
Ideas for Your Home Planner/Organizer/Journal/Notebook
There is an endless supply of ideas that you could compile for your planner, but here are a few tabs that I have:
Goals - this section I put right at the front of my journal so I would be daily reminded to review my goals for the year including: personal goals, nutritional goals, handcraft goals, family/ministry goals, family mission statement and book reading list.
Weekly Plan – Monthly calendar and to do list for the week. I take time every Sunday for my weekly planning outing to plan for the upcoming week using these pages.
Schedule – morning and evening routines, weekly routines (day by day plans that don't change) – (check out Simplifying Your Schedule and Developing a Morning Routine for further inspiration)
Menu Plan – monthly winter & spring menu plans, monthly errand list, shopping lists (visit Developing a Monthly Menu Plan for more details on developing a monthly menu plan)
Homeschooling – ideas for learning activities, planning pages
Hospitality – our family vision for hospitality, ongoing invite list, meal ideas for guests, emergency meal, meaningful questions for dialog
Holidays – family traditions, holiday recipes, holiday planner, gift ideas for family/friends, Christmas card list with addresses
Household Inventory – freezer inventory, pantry inventory, master household supplies list (including personal care, house maintenance, office, kitchen, cleaning, and health supplies – to review monthly before errand run to see if anything needs to be restocked), clothing inventory (keeping track of the kids clothes to stay ahead of the seasons)
Finances – Budget, bill schedule, cash envelope funds and purchases, receipts
Family Journal – includes by weekly evaluation notes, monthly journal on what God has done in our family over the previous month, birthday letters to our children
Household Maintenance – spring cleaning list, weekly, monthly, quarterly, and annual chores list, honey to do list (basic repairs that need to be done around the house)
Blog Ideas – this is where I keep track of blog post ideas, advertiser and affiliate information
Resources - this is for keeping articles, book titles, and misc resources that I might want to look back on in the future
Contacts – a central place to keep phone numbers, addresses, websites, etc.
Other ideas: coupon organizer, chore chart for kids, emergency preparedness info, etc.
Here's a peak into my planning notebook:
httpvhd://www.youtube.com/watch?v=Oxiwgm6LTu8
My encouragement for you is to take one section at a time. One section per week if necessary to avoid getting overwhelmed in any way. Build your homemaking planner over time and see more peace establish in your home. Bless your efforts! Developing my home planning notebook has taken several weeks and it is always getting improvements made to it.
Pages from my Planner:
Here are pages I personally use and/or have assembled for my notebook planner:
Freezer Inventory
Pantry Inventory
Master Household Supplies List
Housecleaning Schedule
Weekly Evaluation Page
Monthly Menu List
Resources & Inspiration:
Tell Your Time: How to Manage Your Schedule to Live your Life Fulfilled – a wonderful little ebook that helps you develop goals and a schedule

Intentional Planner by Sheri Graham – a wonderful resource including planning pages
Maximize Your Morning by Inspired to Action – a helpful free guide to developing a morning routine with several good planning pages.
List Plan It – a great site that offers a yearly subscription access to over 400 lists to help organize your home, business, and life.
Homemaking Organized – downloadable lists for organizing your home
Control Journal – Flylady's guide and tips to building your home planner or control journal as she calls it.
Household Management 101 - easy steps to building your planner
Do you have any ideas or resources to share with us on becoming more organized with a home planner?