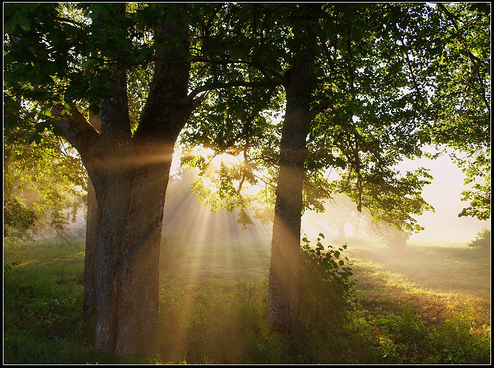 Photo by j.anne4
I have always loved the benefits of rising early; but over the last few months while dealing with sleeping issues, rising early has gone out the window. To be completely honest, I often would lie in bed past 8 o'clock and wallow in self-pity. The longer I would lie there the inevitable result would be increased tiredness. When I would finally be dressed by noon, half my day was gone and the most profitable hours are also lost. Thus I would encourage the entrance of depression and discouragement. Aaron and I determined together that one of our new years goal was to plan and purposefully begin rising early TOGETHER.

Accountability is key. Sitting down together to plan out our morning routine was also essential. I determined, by God's grace, that I needed to rise early, whether or not I slept well. Why do I believe rising early is important?
1. The morning hours are your most profitable moments of the day. You are fresh and energized. You can accomplish more in one hour than most people accomplish in an entire day.
2. It takes time to mentally prepare for the day. As Kat in her e-book, Maximize Your Mornings states, "Professional athletes don't roll out of bed and stumble into the game. They warm up, talk to their coach and get mentally focused for what is ahead. We need to do the same thing."
3. Personal quiet time can help maintain peace and harmony in the home. I can testify that without my morning devotions, my flesh tends to be more prone to anger and frustration (my sinful weaknesses). If I don't focus on the Lord first thing, I often lose sight of my mission as a wife and mother.
"Ever plan for yourself in simple dependence on God. It is nothing less than self-idolatry to conceive that we can carry on even the ordinary matters of the day without His counsel. He loves to be consulted. Consider no circumstance too clear to need his direction. In all thy ways, small as well as great; in all thy concerns, personal or relative; temporal or eternal, let Him be supreme. Who of us has not found the unspeakable 'peace' of bringing God matters to minute or individual to be entrusted to the most confidential ear?" - Charles Bridges

Our Plan:
First, we determined what we wanted to include in our morning routine. For us, this included personal devotions, exercise, shower, get dressed, make breakfast, eat breakfast together while having family devotions, concluding with sending Aaron off to work.
Secondly, we mapped out these activities according to our priorities. If nothing else, personal devotions are the most important to us. We believe strongly in beginning our day with the Lord. Sitting at his feet keeps Him the center of our lives and the Source for our strength for the upcoming events of the day. We listed them in order of priority above.
Finally, we mapped out the time frame they needed to take place by. Aaron needs to be out of the house by 8:30am, so we worked back works determining how much time each of these events would take.
Start small. We were previously waking up by 7:00am. Our new goal was 6:00 am. Rather than jumping into that significant adjustment, we started by waking up 5-15 minutes earlier each day. This way it was manageable adjustment and able to be maintained more effectively. Since exercise is one of our priorities for the morning, we also determined to start small here. If we jumped into a strict 30 minute routine, we would fall out relatively quickly, as we have experienced in the past. So we adopted the starting small technique again here – 5-15 minutes each day. Doing a smaller amount more consistently has been proven to be more successful in developing the habit. Exercise in smaller more consistent chunks is also better for your body than random extensive exercising periods.
Collect things for your morning routine the night before. Get things set up in advance for your morning routine so you are not blindly hobbling around at 6:00am trying to find your Bible, exercise clothes, etc.
Make a plan for your devotional time. Choose a Bible Reading plan. You must have a plan to really effectively grow in your faith. There are many different Bible reading plans available free for download at Discipleship Journal or Revive Our Hearts collection of plans. We have used all of these plans at different times in the past and they are very effective.
Plan your day. I have found simply taking 5 minutes to plan my day has increased my productivity. I make a master to-do list of the week during my weekly planning time, but cutting this down to selecting 3-5 things that need to be done today has been helpful. I use a 3 x 5 card to jot down my to-do's on one side. On the other side, I write out a verse of Scripture from my devotions that I would like to meditate and/or memorize throughout the day. I keep this 3 x 5 card in my back pocket and every time I check my to-do list, I will review the Scripture. It has been very encouraging and edifying!
Our morning routine:
6:00 am – Currently, we are at 6:20 am, working up in 5-10 min increments – Personal Bible reading time individually, plan for the day (make my to-do list)
7:00 am – Exercise (jump rope, push-up's, crunches, jogging up and down the stairs)
7:15 am – Shower, dress
7:30 am – Kids wake up (roughly), Nurse baby, Aaron get kids dressed
7:45 am – Lindsay prepares breakfast, packs Aaron's lunch
8:00 am – Eat breakfast, Family devotions (reading one chapter from Proverbs every morning)
8:30 am – Aaron leaves for work, Lindsay cleans up dishes, dinner preparations, quick house pick-up
We committed this plan to the Lord and He has really blessed it. I have never felt so productive in my life! It has been so helpful to develop this plan and carry it out together. The house can be picked up and dinner preparations made by 9:30 am! Formally, this could drag on through lunch. It's been a huge blessing to our family. I have more energy now in the morning whether or not I slept well the night before. A huge part of this I believe is renewing the priority of quiet time with the Lord. Just getting up and doing the NEXT THING.
I highly recommend and encourage every family to adopt a morning routine, one in which you have quality time with the Lord to prepare your heart for the day, exercise your body to give you health and wholeness, and to prepare and plan for the day ahead!
For more helpful tips for developing your morning routine, please check out Kat's free e-book, Maximizing Your Mornings.