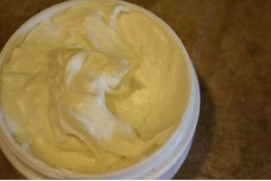 Want to give that special man in your life a simple, natural and yet useful gift? How about homemade aftershave?
Recipe #1: Coconut/Shea Butter Salve
I made this concoction for my husband and he says it works great. Avoid the chemicals and yet nourish the skin with the healing properties of coconut oil and shea butter. Shea butter is rich in Vitamins A, E, and F, which help to soothe, hydrate, and balance the skin. Make sure to select raw shea butter, because many companies use bleaches, deodorizers, or chemicals to alter the scent and appearance of shea butter. These processings deplete the product of its healing and medicinal properties, and also destroy the vitamins and minerals present. You will know if it is raw by its distinguished nutty smell. Coconut oil is also very nourishing and moisturizing to the skin and has great anti-bacterial and anti-fungal properties. This is the same basic recipe I use for diaper salve cream. This recipe is creamy in consistency. It works beautifully for both tasks!
1/8 cup coconut oil
1/4 cup shea butter
essential oil of your choice – a few drops of clove, cinnamon, bergamot are preferred manly scents
Whip your ingredients together with a small hand blender or by hand. Place in a small container of your choice and give to that special guy.

We buy our extra virgin coconut oil and raw shea butter from Mountain Rose Herbs.

Recipe #2: Apple Cider Aftershave
This second recipe is a wet consistency due to the liquid astringent. Store in a glass jar. An empty spice container with the  holes works great because you can simply dab a little bit on a cotton ball to apply. Apple cider vinegar is great for the skin and completely natural! Vinegar contains acetic acid, which has anesthetic properties if you cut yourself during shaving. It also moisturizes the skin, closes the pores and soothes razor burn. It has all the benefits and none of the chemicals in traditional aftershave. No fear of the scent either because it will disappear as it dries and can be easily covered up with a few drops of essential oil.
3  Tablespoons witch hazel
5 Tablespoons apple cider vinegar
a few drops of essential oils of your choose – bergamot, clove & cinnamon again are the recommended manly scents
a clean, empty bottle to hold the aftershave, an 6-8 oz clean spice container works great or for special gift giving, check out the cute glass cork bottles from Mountain Rose Herbs.
Combine all the ingredients, close the jar and shake it to make sure everything really is mixed thoroughly. Put the jar in a cool, dark place and keep it there for 3 or 4 days, making sure to take it out and shake it well once a day. Shake before use.
For dry skin: Add 1 Tablespoon of aloe vera gel, vegetable glycerin, or rose water to the aftershave.
For oily skin: Add 1 Tablespoon vodka.
For sensitive skin: Use apple cider vinegar alone for a great simple aftershave or dilute the apple cider aftershave with a little distilled water.
Enjoy!