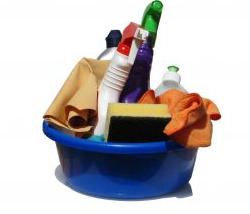 Welcome to our Natural Housecleaning Carnival! Do you desire to remove toxic chemical cleaning supplies from your home and need some help getting started? I am so glad you joined us today. Did you know that homemade natural alternatives are not only safer for your family and the environment but they are also far more economical as well! That is one of the reasons I love natural cleaning…it can be done with a few basic and simple ingredients, most of which you already have on hand.
Did you know? The average American uses about 40 pounds of toxic household cleaning products each year. These cleaning products contain dangerous ingredients, including neurotoxins, carcinogens, allergens, central nervous system depressants, heavy metals, and other agents that cause or contribute to cancer, respiratory problems, reproductive abnormalities, allergic reactions, and behavioral problems, among other issues.
Today the floor is open for you to share all your tips and tricks for getting rid of the toxins and filling out home with fresh natural housecleaning!
My Simple, Frugal & Natural Housecleaning Bucket
I am all about simplicity and frugality, so if I can clean the entirety of my house with a few basic tools, I am thrilled! My housecleaning bucket includes the following items: Two shakers, three spray bottles, and three tools.
Baking Soda – I keep this in a small shaker (reusing an old spice container) for dusting in my toilet bowl.
Oxygen Bleach Powder (learn about this natural replacement to chlorine bleach here) – I also use this in a small shaker to dust into my toilet bowl or tub and allow to sit before scrubbing down.
All-Purpose Cleaner – Currently, I use soap nuts liquid & vinegar with a bit of tea-tree oil (details here). Love it!
Window Cleaner - I use club soda and that's it! Other alternatives or boosting agents: half vinegar & half water, lemon juice & water or soap nuts liquid.
Hydrogen Peroxide – keep this in the original dark container (otherwise it loses its effectiveness) and simply replace the lid with a spray nozzle. I use this to spray down my tub in accompaniment with vinegar or oxygen bleach, and to remove stains in the carpet (read more here).
Toothbrush – for all the small spaces around the toilets, sinks and for cleaning grout on my tile counter tops.
Toilet Brush
Scotch Brite Scrubby – for giving the toilet bowl, tub and tile a good efficient scrub!
Olive Oil - this of course I keep in my kitchen but use it with a soft cloth (t-shirt) for cleaning the smudges off my stainless steel appliances.
What if you want to skip the whole homemade route? Check out the Mrs. Meyer's line of cleaning products. These are wonderful natural products that I have used and loved in the past. Many products in this line are also sold by the case at Amazon and you can get 15% off with the subscribe & save feature.
Here are some previous posts on the topic:

Housecleaning on A Budget – Part 1 – all basic frugal housecleaning recipes!
Housecleaning on A Budget – Part 2
My Favorite Frugal & Re-purposed Housecleaning Tools
Using Soap Nuts for Household Cleaning
Natural Housecleaning Book Recommendations
Natural Stain Remover & Cleaning Agent: Hydrogen Peroxide!
Natural Bleach Alternatives
Natural Laundry Detergents: Homemade, Charlies & Soap Nuts
Natural Dishwasher Detergent
Let's seek to be good stewards of the environment and our health by adopting some new practices. Just remember, natural alternatives may not clean as effectively as their chemical counterparts, but I don't mind a little toilet bowl ring stain if it is not going to cause anyone any harm.
Now it's your turn…
1. Homemade "Clorox" Wipes (Emily)
2. Washing Windows (Amy)
3. How To Clean Your Stovetop & Oven the Simple, Safe & Frugal Way (Katie)
4. Elbow Grease: The Most Natural Cleaner of All (Meghan)
5. Frugal & Natural Laundry (Vanessa)
6. Frugal & Natural Bathroom Cleaning (Vanessa)
7. Earth-Friendly Laundry for 10 Recommendation (Sarah)
8. Natural Cleaning Round-Up (Jackie)
To participate, post your tips & tricks on your blog. Link to this post and leave a comment with the title of your post and the link address below and then I will add them to the post manually. Make sure to submit a direct link to your post. If you do not have a blog, please feel free to share your tips in the comments. Have a question or problem in your housecleaning routine? Please share it below and let's help each other out!
What's in your housecleaning bucket? Do you have a favorite cleaning brand to recommend? How do you solve stubborn stains? Mold? Mildew?