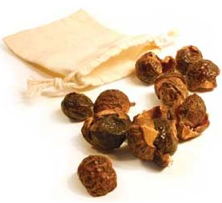 Soap nuts are an effective cleaning agent that grows on trees! If you haven't heard about soap nuts, learn more here. They are as natural as you can get! They are safe for your family and the environment. No chemicals. No waste. Not only have I found them very useful for cleaning my laundry, but I also have found them to effectively clean my dishes at the sink and in the dishwasher. You can make your own liquid cleaning detergent from raw soap nuts by following these simple steps:
1. Place 12-15 raw soap nuts in a pot with 6 cups of pure filtered water.
2. Bring to a boil and then turn to a simmer for 1 hour.
3. Allow the mixture to cool completely.
4. Strain the nuts from the liquid. Compost the nuts and use the liquid for your housecleaning!
If you make a large batch as described you will want to refrigerate it between uses to preserve it. It is recommended to use within 3-4 days. I store mine in a glass 1/2 gallon jar in the refrigerator. As it is completely natural, it can go bad without preservation. A few ideas for helping to preserve it include: freezing it in ice cube trays, adding essential oils, vegetable glycerin or citric acid. All of which are natural preservatives. Experiment and see what works for you. You will know when it goes bad when it develops a pugnet bad smell. If storing in the refrigerator, make sure to label your product. It looks a lot like apple juice!

Here are all the wonderful housecleaning uses:
All-Purpose Cleaner: Fill a small spray bottle with full strength soap nut liquid (you can dilute it if desired, but I found it to be more effective in full strength). Add a few drops of tea tree oil or lemon essential oil. Use for spraying down countertops and floors and other general cleaning. You can also keep this cleaner by the kitchen sink for dish washing. I like to add 1 Tablespoon of lemon juice for more grease cutting effectiveness. Add white distilled vinegar for more disinfectant jobs.
Windows & Glass: Combine 1 cup of water with 1 Tablespoon soap nut liquid and 1 Tablespoon white vinegar. Place in a spray bottle and spray your surfaces and wipe clean.
For Dishwashers: Fill the dishwasher soap dispenser with soap nuts liquid – about 1/8 cup. Wash as usual. Tip: For extra sparkle, add a half-ounce of vinegar to the rinse dispenser or during the rinse cycle. This works amazingly well! It is in a tight race with my homemade dishwasher detergent/dishwashing soap.
For the Laundry: Use 1/4 cup soap nut liquid in cold or hot water, as desired. I have found using the liquid version is the best way to thoroughly clean your clothes, especially cloth diapers. The raw nuts didn't seem to agitate enough to clean my diapers thoroughly so I tried making the liquid soap and my problem was solved. Wonderfully clean diapers!
For Steam Cleaning Carpets: According to NaturOli, Soap nuts work exceptionally well in carpet cleaners because they are so low sudsing and odor reducing. Add about a quarter cup of soap nut liquid to hot water in the portable cleaner. Great for urine stains!
You can also purchase the Liquid Extreme 18X version of soap nuts and use that in replacement of the homemade soap nuts liquid above. That is a bit more expensive but definitely makes it easier! You will be able to use a lot less as well because it is a concentrated liquid.
Soap nuts are definitely simplifying my life over here for all their usefulness!
For the best deals on soap nuts, visit NaturOli.
Please note: Passionate Homemaking is an affiliate of NaturOli and will receive a percentage of each purchase made through our links. Thanks for your support!

Stay tuned for our upcoming Natural Housecleaning Carnival this Friday!