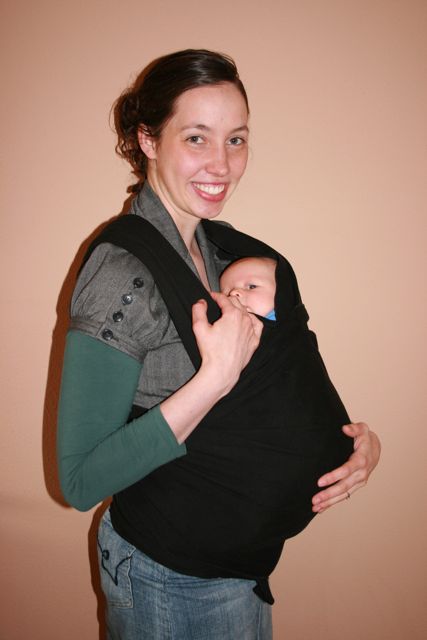 I love to be able to snuggle up with my newborn babies and see them fade out into oblivion as they cuddle on my chest; thus, I greatly love the Moby Wrap Baby Carrier!
With my first baby, I dreaded the thought of a crazy wrap or sling! But as I have grown in my mothering and learning to enjoy the simple things of life, baby wearing became more appealing. It's so easy to get things done while soothing a fussy baby, that's for sure!
I love the full support this carrier provides for my little one while keeping them perfectly snug and secure against my body. It's just like I am pregnant again! My hands are completely free to do the tasks necessary around my home. This carrier has been particularly handy while juggling a teething little guy (yes, Titus has been teething away this past week – alas!).
With our first baby, we used the infant insert with the Ergo Baby Carrier when the baby was a newborn. Honestly, I think that infant insert is a waste of money. It makes the carrier awfully bulky and sticky out from your body, thus making it very difficult to wash dishes and the like. Plus the material on the insert is very thick, making it very hot for the baby. The Moby is made of thin stretchable fabric, thus giving alot of breathability. Although the Moby can be used up to 35 lbs, we love the Ergo for when they get a bit bigger (as it gives excellent support as they increase in weight), but the Moby is much easier and wonderful for these small stages.
CON's: There is definitely a bit of a learning curve on this one. The methods of wrapping it are rather easy to learn, the most difficult thing I found was trying to get the fabric wrapped tight enough against my body so the baby isn't sagging down. Guarding against getting the fabric from getting twisted on my back has been another challenge. You have to just take it a little slower. There are many helpful videos online (utube and such) that will introduce you to the wrapping process.
The material is rather long and can be awkward to put on in outside settings without getting it dirty. If you are going to be out and about doing errands, put the carrier on at home so it is easy to slip the baby in when you get to the store! This carrier is much better than hauling around an infant car seat in the stores let me tell you (especially if you have another little one or two in tow). It can definitely get stretched out with wear, but is also fully machine washable and the dryer gets it back in shape.
Even with all the con's, this product has been a lifesaver and we highly recommend it! Moby's are actually relatively cheap. Brand new they are around $40, but you can also find them on craigslist (like us!) for $15-20.
Read my friend Mandy's excellent thorough review here.