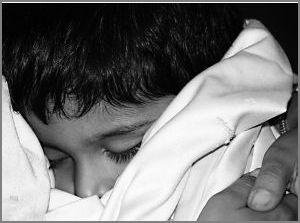 Do you struggle getting your toddler or preschooler to lay down peacefully to sleep at time? If so, I encourage you to consider developing a bedtime routine. I have been blessed to find the resource, The No-Cry Sleep Solution for Toddlers and Preschoolers: Gentle Ways to Stop Bedtime Battles and Improve Your Childs Sleep by Elizabeth Pantley recently. Karis has always been a good sleeper, but has never been peaceful at actually going to bed. I had been really praying that God would direct me as to how to make this process more peaceful, especially before the new baby arrived. He directed me to this resource. Since adopting a few simple ideas from this resource, we have been experiencing a real transformation.
We have gone from bedtime being a stressful time of the day, to being really peaceful and actually enjoyable. I feel like this time is ever more precious in investing in my daughter's life. I have found it is never wise to rely too heavily on any one particular method, but there is a lot of wisdom available to be learned with some discernment and prayer as to how to apply it to your particular situation.
How are we making progress in this area?  Here are a few practical steps we have learned…
1. Aim to keep bedtime at the same time every night – children thrive on consistency!
2. Give more time for the nighty night routine & start earlier than you think- don't try to rush the process, but give yourself a good hour to go through your routine before putting the child down. Karis just loves the comfort and security of being with us, so it is valuable to spend the time necessary to calm and relax her.
3. Develop a bedtime routine. For older toddlers, you can develop a bedtime chart with pictures that help visualize the routine and get them excited to complete it each night. Include pictures from the internet or magazine of brushing teeth, pajamas, etc.

Karis' bedtime routine:
Starting at 7:30pm:
1. Prepare bottle – she drinks some milk before bedtime.
2. Get pajamas and night time diaper on.
3. Brush teeth
4. Read stories while enjoying her milk – we take a good 15 minutes to read together in a dim room, to prepare her for nighttime. She absolutely loves reading books and her love has only grown as we have included this in our schedule!
5. Close the door and snuggle together. We hold and pat her back while singing and praying over her. Singing to your children is such a sweet and valuable habit to cultivate as one more opportunity to plant seeds of the gospel in their hearts!
6. Lastly, by 8:15 or so, we lay her down with her dolly and blanket (it seems to work well to have a few favorite items to snuggle with in order for her to feel safe and secure).
For once in a long time, she is laying down and either going right to sleep or talking quietly, whereas before she would cry for a good 30 minutes before going to sleep.
If you are dealing with any other issues related to sleeping: bed-wetting, waking up in the night, etc., than I would encourage you to look into this book. It is chock full of helpful tips and ideas. I found it at my local library.

Elizabeth Pantley also write a books titled The No-Cry Sleep Solution: Gentle Ways to Help Your Baby Sleep Through the Night. This is on my reading list for the new baby.
My friend Mandy shares her great idea about getting your children to stay in bed in the morning and be able to sleep longer by using a timed night light!

What tips have you found helpful in assisting your babies and children to sleeping well at night?