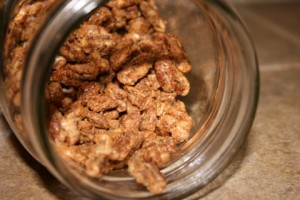 I am not normally a fan of nuts, but creating these delicious candied nuts is a perfect addition to our diet in many ways. Topped on a nice green salad or in our homemade trail mix (with raisins and the like), or simply served as an evening treat. We love combining them with raisins for a travel snack. Great way to increase nutrition but also add an extra bit of protein to the diet (especially good for pregnant mommy!) Delicious! You can use pecans or walnuts, as desired.

According to Nourishing Traditions, "Pecans contain calcium, iron, magnesium, phosphorus, potassium and selenium. They are an exceptionally rich source of manganese. Like all nuts from large trees whose roots extend far down into the earth, pecans are good sources of trace minerals. They contain B complex vitamins, carotenoids and vitamin C in small amounts. They will last about four months at room temperature." Choose raw nuts for the highest nutrient value!
Candied Pecans
1 egg white
1Tbsp water
1 pound pecans/walnut halves or pieces (we like pecan pieces -easy for Karis to munch on!)
1/3-1/2 cup sweetener (sucanat, rapadura, or maple syrup -use 1/3 cup if using maple syrup)
pinch of salt
1/2 tsp cinnamon
1 tsp vanilla
Beat egg white together with water until it becomes stiff and fluffy. Fold in the sweetener, salt, cinnamon and vanilla. Add pecans and toss to coat. Spread out on a greased cookie sheet and bake at 250 degrees for 1 hour, rotating every 15 minutes.
SOAKING: It is recommended to soak nuts due to their enzyme inhibitors that can irritate the mouth and cause digestive problems. If you desire to do so, soak nuts prior to use by combining nuts with filtered water, leave in a warm place, and allow to soak for at least 7 hours or overnight. Drain and spread on a stainless steel baking pan/cookie sheet and place in a warm oven (no more than 150 degrees) for 12-24 hours, turning occasionally, until dry and crisp.
Happy nut snacking!