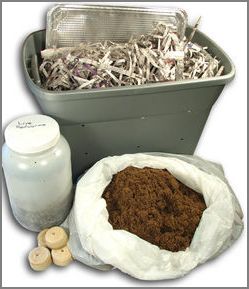 One of my new year goals is off and running! Our composting bin is set up and ready to go. Composting is a great means of cutting back on garbage while making some wonderful soil for your garden! A simple way to being a good steward and not letting anything go to waste! My Grandma told me this is the key to her lucious tomato plants producing an abundant crop. I kept it simple and purchased the composting bin that Azure Standard now offers (just under $40 for the set) as we are very limited in our condo with no back yard beyond a deck. It had very simple instructions and came with everything including the container, worms, moss, and paper. It did not exactly fit under my kitchen sink  (it was so close, but the garbage disposal was in the way), so we are keeping a small plastic container under the sink to collect organic scraps throughout the day, and the composting bin in the garage. At the end of the day we dump the matter into the bin, and start again! All's I have to do now is feed these little worms 1/2 lb of food scraps each day!
Further Reading
Worm Composting in a trash can - Tammy's shares about her composting method. Great if you have the space!
Any tips on composting you want to send my way?