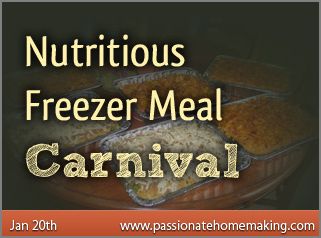 Just a quick reminder that our nutritious freezer meal carnival is coming up this next Tuesday, January 20th! Let's spread the word and have a full array of recipes lined up to share with one another.
With the use of Mr. Linky, come and link up to all your healthy family recipes that freeze well and any freezing tips that you would like to share. Here is an oppor­tu­nity to start off the new year with a great list of nutri­tious meals to stock your freezer! The only request is that the recipes should ide­ally use whole and nat­ural ingre­di­ents (we're thinking healthy!), nat­ural sweet­en­ers and the like, but the carnival will be open to all submissions, as we are all in different stages of this journey to living more healthy. You can share any recipe from a main dish, soup or dessert that freeze well. Please also include clear freez­ing and defrost­ing instruc­tions.
If you don't have your own blog from which to share a recipe, feel free to come and post a comment during the carnival with your favorite recipe or two. Spread the word by using the banner! Looking forward to it!