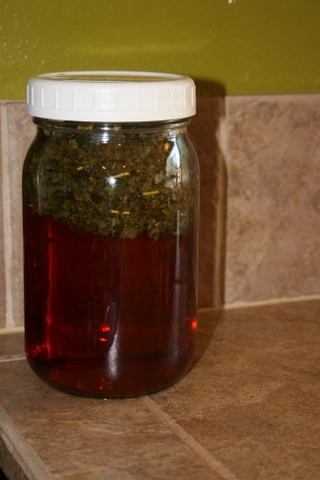 Red raspberry leaf tea has been used for centuries as a folk medicine to treat canker sores, cold sores, and gingivitis in persons of all ages and anemia, leg cramps, diarrhea, and morning sickness in pregnant women, and as a uterine relaxant. Brewed as a tea it is the best known, most widely used, and safest of all uterine/pregnancy tonics. It tones the muscles of the pelvic region. It also contains vitamins A and B complex and many minerals, including phosphorus and potassium. It can increase fertility, prevent miscarriage and hemorrhage, ease morning sickness, reduce pain during and after birth, and also increase milk supply.
For a delightful and frugal homemade pregnancy tea, try this simple recipe:
Fill a quart size glass jar with boiling water and 1 ounce  (which is approx. 2 handfuls) of red raspberry leaf. Cover and allow to steep for 4 hours. Strain the leaves, sweeten as desired, and enjoy! Refrigerate the remaining tea for future use. Recommended dosage is usually 2-3 cups per day.
Another helpful herb that you can add to the above combination or to alternative with would be nettle leaves. It is known to have more chlorophyll than any other herb. The list of vitamins and minerals in this herb includes nearly every one known to be necessary for human health and growth. Nettle is beneficial in aiding the functionality of the kidneys,  nourishing mother and fetus, easing leg cramps and other muscles spasms, preventing hemorrhage after birth and reducing hemorrhoids, in addition to increasing the richness and amount of breast milk. According to the Wise Woman Herbal, "some pregnancy women alternate weeks of nettle and raspberry leaf brews; others drink Raspberry until the last month and then switch to Nettles to insure large amounts of vitamin K in the blood for the birth." Nettle leaves can be brewed in the same manner as raspberry leaf described above or try a combination of 1 handful nettle and 1 handful raspberry leaf.

You can find quality organic red raspberry leaf and nettle leaf in bulk through Mountain Rose Herbs.
It works for me!
Thanks to my friend Mandy, and the excellent resource of Wise Woman Herbal for the Childbearing Year by Susun Weed. This book has some wonderful ideas for all natural brews and remedies for pregnancy issues, before and after, and natural remedies for infant related problems.

Other Homemade Varieties: