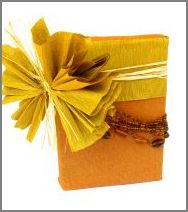 The average family will have a living room full of Christmas wrapping paper this year…all headed for the trash pile? Why not consider a more sustainable, frugal and re-usable alternative? Include the kids in being creative and giving a little more thought and love into each gift.
Alternative Wrapping Ideas
1. Brown Paper Bags – reuse brown paper bags from the grocery store. Turn them inside out, wrap your gift and decorate with your children's hand prints, sponge paint, or various art work. If you have a larger gift, cut the paper bags flat and tape two or more together. Cut a potato in half and cut out a stencil or design, dip into paint and have fun! Write a poem or special quote on the outside. Use twine or hemp to tie it. Here is a great idea for using simple stickers to decorate the exterior of your package as displayed below.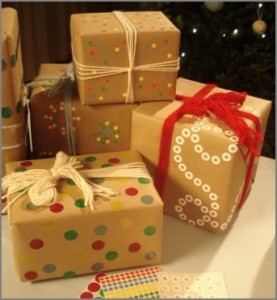 2. Newspapers – drop by a recycling center or use your own piles of newspapers. The comics add an extra touch to increase laughter!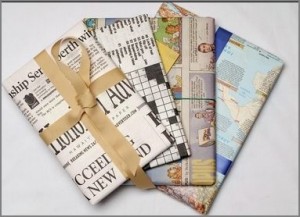 3. Gift Bags/Re-useable Shopping Bags – Gift bags can be re-used again and again, but an even more long-lasting and enjoyable gift would be to use some cute shopping bags. You can find them in an assortment of styles, shapes and sizes at Reusable Bags. I love the ACME bags because they fold up into a compact size for easy travel inside your purse. What a fun way to encourage the use of reusable bags!

4. Gift Baskets - you can find a array of cute wooden gift baskets or tins at your local Goodwill or thrift store. Dollar stores also have tin containers that do not have to be limited to food gifts.
5. Maps – wrap a travel related gift in an old map. Educational!
6. Fabric Gift Bags – learn how to make a cute fabric gift bag here. You can simply take some fabric and wrap with an extra strip of fabric as a bow. Find fabric at your local thriftstore or cut out from an old shirt, sheet, etc. You can actually buy an assortment of fabric gift bags at WrapSacks.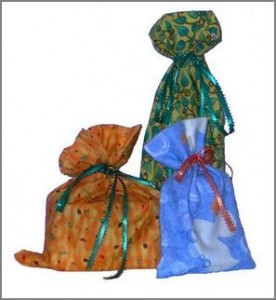 7. Give a gift in a gift - a scarf, towel, sheet, mug, hat, various household linen, cloth napkin, or even a shirt will do and be a nice gift as well!
8. Sheet Music - for a musical person, wrap your gift in sheet music for an added touch and maybe they will even want to explore playing the piece.
9. Old Children's books – use pictures from old children's books for wrapping!
Alternatives to Bows/Ribbons/Fillers
1. Danny Seo, author of Simply Green Giving, recommends using old VHS and cassette tape (both curl nicely on a sharp scissors' edge), old Christmas lights, tape measures, shoelaces—really anything from the junk drawer that's long enough to tie around a box—for a vintage look.
2. Instead of plastic bubble wrap to cushion the contents, try unshelled peanuts, dry pasta or polyester fill from old pillows.
Sources and Further Ideas:
Top Ten Green Gift Wrap Ideas
Green Holiday Gift Bags & Wrapping
Any further green alternatives to gift wrapping? I'd love to hear!