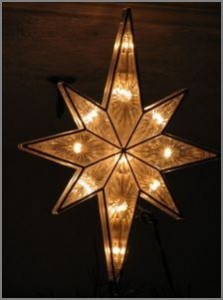 Christmas is a wonderful season and yet how easily it fills up with an overwhelming load of activities! How can we simplify our outside activities and focus more on building strong family traditions during this season?
Limit outside events
Carefully and prayerfully evaluate how you wish to spend your holiday season as you know the invites, ideas and events will be coming. Using the holiday evaluation questions were a great tool for making these decisions and one I highly recommend you complete together with your husband. We have divided outside activities into two different themes for our families: outreach, and local holiday events (family building activities), and just limiting them deliberately to two events per category.
This year we are planning on hosting a Christmas Ladies tea for the women in our neighborhood and singing and playing Christmas carols at a local nursing home and visiting with the elderly. Other events are home centered – such as including our international students in our holidays celebrations and making some simple baked goods for our neighbors. We also like to attend two local Christmas events. I think it will be the Singing Christmas Tree (it's free and right across the street!) & Handel's Messiah this year. Limiting it this way helps us to prayerfully evaluate what events to participate in without stretching us too thing and not having a restful holiday season.
Enjoy Advent Reading
Advent readings throughout the season keep our hearts focused on the reason for the season and increase the family centeredness of the holidays that I enjoy. We can get so caught up in outside events and miss the meaningful times of building the family. Growing up, my family really enjoyed Jotham's Journey: A Storybook for Advent and the other books in this series by Arnold Ytreeide. He has written three different advent stories that will take you through three years. Some of his doctrinal statements I do not agree with, but overall it was a fun family building time. When my own children grow older we will be reading through these again.
This past year, Aaron and I read through Watch For The Light: Readings For Advent And Christmas and really enjoyed these deeper and thoughtful addresses from different authors (C.S. Lewis, Dietrich Bonhoeffer, etc).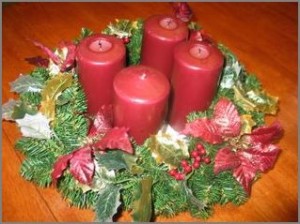 Of course, you must have an advent wreath to go with it! Last year we used a small wreath with a colorful small garland tucked into it and four red candles for of the four weeks prior to Christmas and one white candle in the middle for Christmas day. You can also use three pink, one purple and one white which is very common as well.
Other family traditions we enjoy: giving a Jesus gift to a family in need, buying one new classic Christmas movie each year, buying one new ornament to commemorate a special event from the year, going out and finding a Christmas tree together, along with a few other fun things.
To read more about other Christmas traditions at our home, read Celebrating Christ's Coming.
Other Advent Resources:
Celebrating Advent with Kids – instructions on how to make your own advent wreath and readings.
Homemade Advent Calendar – including fun family ideas and events for each night counting down to Christmas. Why not include a fun activity along with a passage of Scripture to reflect upon using the resource below?
Advent Calendar with Verses (Days 1-12 & Days 13-23)- another option is to post a verse behind each day on your advent calendar.
Jesse Tree Info & Resources -Rocks in My Dryer has done a fabulous job creating a unique Jesse tree. Check out here ornaments here. The Jesse Tree is a means of telling the whole story from Creation to the Nativity story with the use of ornaments and devotional readings. A great means of keeping a Christ-centered focus during the holidays! An alternative to the Advent Calendar.
Jesse Tree Advent Celebration by Ann Voskamp – another great resource for the Jesse Tree idea, including ornament ideas and devotionals.
How do you limit outside activities during the season? What traditions are you hoping to establish this year? Have any good advent reading materials to share?