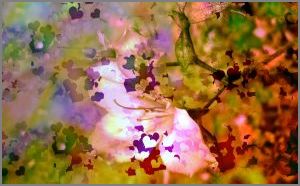 "This is a crucial part of the mission of motherhood: exposing our children to the power and majesty of our Creator God and encouraging them to respond with gratitude and their own creative efforts…It means acquainting all the children with the tangible evidence of God's nature, creativity, and character, as well as helping them to express their God-given creative nature." – Sally Clarkson

Romans 1:18-20 so clearly emphasizes, "His invisible attributes, His eternal power and divine nature, have been clearly seen, being understood through what has been made." What a passionate call to expose our children continually to God's magnificent creation! I believe as children are given wide variety in the opportunities to explore creation, the more they will be exposed to a proper view and understanding of the magnificence of God and thus be able to aspire to exercising their own unique creativity in their everyday life and play. Let's not get sucked into sitting them behind technology all the time! This can be an instrument for great learning but too much can distort their natural creative abilities from blossoming.

Exercising creativity is such an integral part of walking in the image of God. It is not limited to arts, crafts, or home decorating, as I so often assume. We are each created in God's image and thus we each of the means within us to be creative. Creativity can be poured into every aspect of our homemaking – from storytelling to cooking to building blocks to crafts to music to basic problem solving.
The beauty of it all is that is doesn't have to necessarily be all our own ideas! We can learn from each other and our creativity springs from learning to tweak each of those ideas to meet our own particular needs according to our households. Praise God for that!
Fill your home with creativity – meet those five senses! Music, nutritious food (another reason to avoid over processed or packaged foods – it doesn't allow us to fully explore with our taste buds!), less technology, fresh flowers, paintings, pictures, a variety of tools and instruments such as crayons, pencils, paints and paper (recycle all your waste paper for children's use!) for them to express their creativity, dress ups, legos and building blocks to encourage imaginative play.
I am one of those who can often give the excuss that I don't have the natural gift of creativity…as it is integral gift of being made in the image of God, I have no excuse! I simply need to exercise and nurture creativity in my home and mothering.
How did this chapter impact your understanding of incorporating creativity into your mothering?