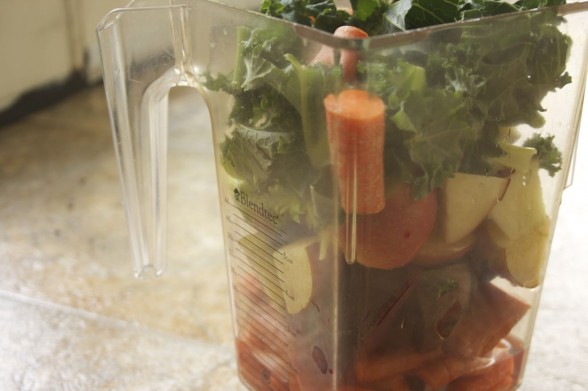 My husband and I recently watched, Fat, Sick and Nearly Dead (watch it free here), and were quite fascinated by this remarkable documentary. I was reminded again how beautiful God designed food to be the healing power to restore order and health in our bodies. I was also challenged to eat more fruits and vegetables and to see that it is more simple than I realized. With my insomnia and hormonal imbalance issues and my hubby's high cholesterol levels (it seems to run in his family), we have been striving to be more intentional in learning what would be best for getting us both into a place of balance and better health.
Juicing is a simple way to increase your consumption of vegetables in an efficient manner. When juiced, the nutrition is made available to the body very quickly. Juicing helps you to absorb all the nutrients from the vegetables as it helps to break them down and  "pre-digest" them for you. I also love how it helps us add a wider variety of vegetables to our diet that we don't often eat or prefer otherwise. Beets would be one of those vegetables that is packed full of nutrition but we just don't honestly eat a lot of it.
But…I don't have a juicer. And honestly, juicers are kind of a pain in my experience. I had one a while back and it was so much work to clean the whole machine out after each use, our relationship ended rather quickly. Then I realized…there's got to be a way I can use what I have. And yes, I have found an extremely simple way to make homemade juice with my blender. It's so easy to do that it has been possible to add it to our morning breakfast meal.
What you need?
A blender (I use my Blendtec which I love and it works incredibly well! You can also use a standard blender, but plan to add more water and add ingredients one at a time)
A nut/milk bag or a paint strainer bag (available at your local hardware store)
Here's a silly little video of me assembling our juice for your viewing pleasure! Don't laugh…;)

Our Morning Boost: Carrot, Apple & Beet Juice
This mixture of fruits and vegetables is high in vitamin A, C, folate, nitrate, calcium, antioxidants, electrolytes, and iron, giving you a great boost to start your day!  Carrots and beets are especially good for cleansing your blood and liver. As I understand it, apples are the one fruit that can be safely mixed with vegetables (Learn the recommendations about food combining here). But I did read here, that if you juice it, then it eliminates this problem…not sure who to believe on this one.

1 large beet, diced
6 carrots, cut into medium chunks
1 – 2 apples, cut into chunks
2 celery slices, cut into chunks
Handfull of greens – kale, salad greens, romaine, etc
1/2 -1 cup water (when using a blender for juicing, you have to add a bit of water to help puree the ingredients. This is not necessary if you have an actual juicer)
Directions:
1. Wash and scrub all vegetables thoroughly. No need to peel them, unless you desire to do so. Cut up all ingredients into 1-2 inch chunks.
2. Gradually load your blender with each ingredient and add water. If using a standard blender, start with softest ingredient and try adding one ingredient at a time and blend till smooth between each addition.
3. Place blender onto your base and pulse or use whole fruit setting (when using a Blendtec), till fully blended.
4. Place your strainer bag in a large pitcher and gradually pour your juice into the bag. Gently, squeeze the strained juice out of the strainer bag.
5. Compost the leftover pulp (or make it into a fruit leather snack) and consume the juice! 
Consume immediately, otherwise add a bit of lemon juice and place in a sealed container and store in the refrigerator. Best to consume on an empty stomach and 1 hour before or after other food items.
Yield: 32 oz.
In this manner we have juice each morning and cut back on our other food consumption. For example, we now have a 12 oz cup of juice and 1 egg and a half piece of toast for a full complete meal. My husband and I are feeling so much more energized as as result. The kids enjoy it as well!
I believe it is important to maintain a balanced whole foods diet. I believe God designed our bodies to enjoy a wide spectrum of real food that he has fashioned each with various nutrients for our bodies. Each vegetable, fruit, protein, or carbohydrate offers different value to our bodies. Thus, you won't see me advocating any special diet. We need a whole variety of real foods in balance and moderation to one another. The disadvantage to juicing is that it does eliminate the fiber in the vegetables through the straining process, although apple juice is high in fiber, thus bringing more balance. In light of this, we try to make sure we have a whole fiber green smoothie or other fresh salad at another meal during the day to make sure we are enjoying the full spectrum of nutrition. The benefit of juicing for us is that it gets more vegetables into our body quicker and gives us that jump start on the day with a clearer mind and increased energy.
For a whole range of fresh vegetable juice recipes and detoxing juicing plans, check out Reboot Your Life.

My next mission is to experiment in using the discarded pulp for other food snacks. Muffins, crackers, fruit leather, add to a green smoothie? No waste is the goal…although composting really isn't wasting in my opinion.