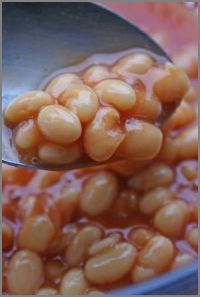 Homemade baked beans are a lovely frugal and protein/fiber addition to practically any meal, from hot dogs and hamburgers to a main dish salad. This recipe is one I have been working on for awhile now before finally perfecting it to our liking! This recipe works very well for making a large batch and freezing in smaller quantities before or after adding the flavorings. You can also add chopped bacon for a special treat. The key: marinating all the ingredients in advance. Enjoy!
4 cups cooked white navy beans (which equals approximately 1 1/2 cups dry beans or 2-3 cans)
1/3-1/2 cup ketchup
Dash of Worcestershire sauce
1 Tbsp white vinegar
1 tsp dry mustard
1/2 tsp garlic powder
1/2 tsp salt
dash of onion powder or 1/2 onion, chopped and sauteed
1/3 cup sorghum syrup, maple syrup or combination (molasses is another option, but I would only use in combination with sorghum or maple syrup due to its strong flavor)
bacon, cooked & chopped (optional)
If using dry beans, soak beans for 12-18 hours in water with the addition of a tablespoon or two of an acid medium (vinegar or lemon juice are best for this task). After soaking, rinse and cover with fresh filtered water and cook on low for 5-6 hours in a crock pot (overnight works best) or bring to a boil on the stove and then simmer till tender, just until slightly tender but not overly soft.
Saute chopped onions, if desired. Drain beans and combine with all the remaining ingredients. If time allows, cover and marinate for awhile in the fridge.  This provides the best flavor. Re-heat and enjoy!
Makes 5-6 servings.