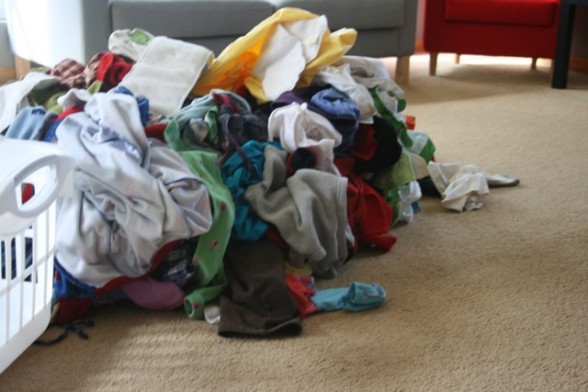 Yes, it's crazy. But why not be gutsy and give it a try with me?
With this method, you can get all your laundry out of the way for the entire week. You won't have to think about it again. It will be folded all at once saving you plenty of time and energy. And your little ones can join in the fun and learn some life skills at the same time.
Things you will need:
A timer (a basic kitchen timer will do or set up a reminder/alarm on your phone)
7 + pairs of clothes for each person in your family (to last a week between washings. We have 7-8 outfits per person with a few extra for the kids for those messes that always come!)
Several sturdy laundry baskets (different colored baskets is nice for sorting for each child or bedroom)
A fun family movie to watch while you fold the laundry together
And the willingness to move quickly
Start first thing on the desired day of chose. I personally prefer Monday morning as it helps give a nice jump into my week. After I am dressed and ready for the day, I get to the laundry room. Begin by hauling all your laundry to your laundry room and sort by colors. Whites (simplify by including white sheets and towels) coloreds, darks (to this jean load I add dark towels) towels (separating bath towels, kitchen towels, and cleaning clothes). I also have a load of cloth diapers. Begin your first load.
This is key: Set your timer for 1 hour. (the Reminders app on the iPhone/touch device works very nice because you can easily change the time with the same reminder throughout the day, but any timer will do).
Continue with your regularly scheduled program.
When your timer goes off, immediately transfer your load into the dryer and add the next load into the wash. Hang any delicate clothes to dry as needed (we hang all my husband and my shirts and dresses and our cloth diapers). Dry clean only clothes can easily be washed in a delicate cycle and then hung to dry.
Include your kiddos in the process. They love transferring clothes from washer to dryer, and sorting clothes teaches them colors and patterns. Plus they are learning basic life skills!
Repeat your timer for 1 hr.
Continue this cycle until all your clothes have made their way through the system. In this manner you can wash upwards of 10 loads a day. I currently wash 6-8 loads every Monday for our family of five.
Lastly, at the end of your day you will have a huge mound of wonderfully clean laundry! Don't get overwhelmed. Embrace it. It means you are warm and well clothed and God is supplying all your needs.
Have fun with your folding load by snuggling up as a family and watching a fun family movie together (we are currently enjoying Little House on the Prairie). Include everyone in the folding process. Even the little ones can fold towels and help sort into the individual colored baskets. Having a colored basket for each person or room can make the restocking drawers/closets process much easier.
Once clothes are folded and sorted, deliver them to their destinations. You may wish to unload the next morning as we often do. Don't worry about ironing. That can wait till the next day. If you have a husband like mine, he would appreciate it ironed and hung in a timely fashion. It is just one way to show him I love him without a word.
That is our basic process of washing all our laundry in one day! It leaves us with a clean laundry room for 5-6 days out of the week and our clothes are clean and we don't have to worry about staying on top of laundry all week long. Just one little way to simplify my life.
It's really not so crazy after all…do you think? I've been following this method since we were married and it continues to work with 3 busy kiddos! A precious moment saved to be used to invest in something more important.
And don't worry…if it doesn't work for you, then don't stress. There is grace for your laundry pile! It will surely get done when it is needed.
Note: We do prefer to hang out all our laundry when possible to conserve electricity, but that is really only doable in the summer months here as it rains throughout the rest of the year.

We also usually wash a second load of cloth diapers sometime later in the week for our baby.