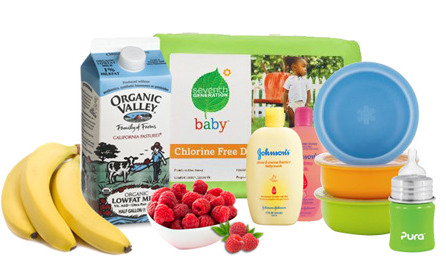 Did you know that it is possible to do the majority of your grocery shopping online these days?
This has certainly be a huge blessing lately while trying to juggle three kiddos and the various responsibilities I have within our home. I have been investigating different options lately in an effort to use my time most productively. Honestly, it is pretty tiring for me to haul all the kiddos to the store. Buying groceries online saves my energy and is a simple way to protect against unnecessary stress.
Additionally, it's far to easy to buy items that aren't necessarily on my grocery list when I get in that environment (oh, wouldn't the kids love trying this? Ahh…coconut milk yogurt, yum!). Surprisingly enough, shopping online has been saving me money!
It has been two year now since I shared my initial real food budget and what food purchases we make at our home. It has certainly changed and been tweaked over this period. With food prices continuing to rise, we have had to adjust and re-evaluate as necessary. I used to shop primarily at our local Trader Joe's but have become more and more dissatisfied by the lack of freshness and packaged nature of their produce. I also found I had to make multiple stops to get everything I needed because TJ's doesn't have that large of selection.
Currently, our food budget is $500-$525 per month and these are the majority of the purchases we make.
I am finding myself using the Subscribe & Save feature on Amazon more frequently for finding huge savings on many food items in their Natural & Organic Grocery section. Their selection is growing each time I look. Most of the items are more bulk purchases, but they are non-perishable items, which makes it very possible to spread out their use over a 2-3 month period. With the subscription option, you save an additional 15% and have scheduled deliveries every 1-6 months as you desire. We have prime membership which provides wonderful quick free delivery (even without prime, most items are also available for free shipping if you spend over $25). In this manner, I don't have to think about it and there is still flexibility to change as you need. You can also cancel at any time. I love food being delivered to my door!
We purchase the following via subscriptions. I have compared them extensively with my other food sources and found Amazon's prices to be the best: Organic peanut butter, organic raisins, organic coconut milk, vanilla extract, organic coconut oil, maple syrup, gluten-free honey rice cereal (our Sunday morning breakfast), chicken broth (I prefer making my own chicken broth, but I also forget to pull it out of the freezer a lot, so I like having small portions of chicken broth on hand for easy access), toilet paper (yes, you can even save on the basics!), charlie's laundry soap, mac & cheese (I like having Annie's on hand for an easy lunch). Amazon also has a growing selection of quality dry goods, including beans and grains.

Safeway Delivery
I am starting to order many random food items (that are not available through my other sources) via Safeway delivery lately. Our budget is $100 per month. The time it saves is worth the slightly increased price. You can save on shipping simply by being flexible as to delivery time or they often offer free shipping if you purchase a certain number of items from their specials list or on orders over $150. I pay no more than $6.95 for delivery in our area. I try to purchase most of my produce organically, and use the Dirty Dozen as my guide. In the summer, I love to use Organics to You for fresh local produce delivered to our door.
Here are the items I purchase through these sources: Organic Milk for making yogurt (1/2 gallon twice a month), lunchmeat, pepperoni, mozzarella, Parmesan cheese, fresh organic produce (bananas, oranges, salad mixes, etc), various other food needs not available through other sources.
Azure Standard 
I appreciate Azure Standard and the bulk natural foods that they offer. We spend about $100 per month through Azure. They deliver to drop spots all over the Northwest and moving more into the Midwest of the US. I buy the following: Brown rice pasta, natural soaps and shampoos, organic crackers, mayonnaise, organic produce, tortillas, raw cheddar cheese, sour cream, soy sauce, olive oil, vinegars, raw honey, spices, condiments, sucanat, oats (other bulk grains and beans), canned wild salmon, tomato soup.
In addition to these purchases, I buy local raw milk & eggs  (1 gallon per week, 2 dozen per week – $68 per month), and we also set aside $100 per month for bulk meat and fruit purchases throughout the year to stock the freezer. We buy 1/4 cow, 1 pig, and about 40 lbs of chicken breasts annually. We buy a dozen loaves of sprouted wheat bread from Dave's Killer Bread/Healthy Bread Store warehouse (they offer a frozen dozen of sprouted bread for $25). We consume this amount of bread in about 2 months. I continue to make my own jam, salsa, kefir, yogurt, and various pastries as we desire. That's pretty much it…
Other excellent food delivery sources:
Beyond Organic (this online store has recently been launched birthed out of Jordan Rubin's book)
U.S. Wellness Meats (find quality grass fed products)
Vitacost (this is another growing option that has a great selection of real foods, vitamins, herbs, and more at deep discounts! I found Eden Organics, Nutivia, Bob's Red Mill and many other quality brands available here. Many of their products are very comparable to Amazon and Azure Standard too. I just made an order because they sell cod liver oil and other good supplements.) Refer a friend and you both get $10. A fun way to save!
Be sure to search google for specific grocery delivery companies in your area!
Found any good natural food deals lately? Please share!
Note: There are affiliate links in this post for Amazon, so we receive a small percentage of any purchases made through these links. Through your support, we are able to sponsor an orphan home in India.