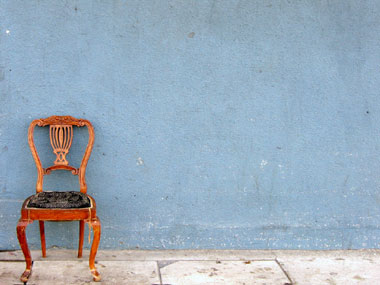 Did you know that your home is an embassy of Christ's kingdom? It is especially designed by God to be a place for others to find refreshment, encouragement, a haven of rest to their souls from the weariness and trials of this world. This haven must be a welcoming place to display the glory of God! This should always be our chief goal in our decorating. How can I make my home more of a testimony to the work of Christ in my life? How can I seek to refresh others as they enter into my home?
Now I am no decorating expert. In fact, I am not quite sure why I am talking about this topic right now. The gift of creativity passed me by and was given to my younger sister…so most of what I have written below come from her creative juices! My house is far from being decorated as I would like…but maintaining a simple home is my goal anyway!
Here are a few ideas:
Have Fun with Paint
This may seem like a small thing, but paint greatly improves the appearance of your home! If your home needs a refreshment, buy some new paint! You will be amazed at how much cleaner your home looks with a fresh coat of paint. We had white walls for the longest time (due to my pregnancy, I couldn't paint!), and when we painted the walls it was major transformation. I felt like my house was a new place and was finally our home!
Use a variety of techniques. My sister and I painted our downstairs bathroom with rag rolling recently. Neither of us had done it before, but it was simply a blast! It didn't come out as the picture did, but it still looked unique and creative. Have fun with it! The key is not to be intimidated! Take your time. Do one room at a time.
Paint just one focal wall a rich deep color to add depth to your room. Leave the other walls either white, or a much paler version of your accent wall and those walls will appear to fall away. Also keep in mind that cooler colors such as greens and blues tend to recede from the eye, while warmer colors such as reds and yellows seem to close in a room.
For the Love of Pictures
Make sure to post lots of pictures around your home. This is the ultimate decor! It reflects your love for your family and others. People love looking at photos! Pictures are easy to come by and very reasonable to print.
Buy frames around a theme but have variety. Black photos go with black, silver or white frames. Colored photos go with brown, tan, white or miscellaneous colored frames. Throw in a fancy colored one! Always use a variety of frames. Don't just have one size, one style, color, etc (this would be my problem, that my sister is weeding out!). Use black square, silver large frame, etc. See picture below of my collage. Throw in an old antique looking one. I am not a creative person unless I really put my mind to it and stretch myself. I was so excited about the final product! You can do it too if you set your mind to it! Great places to buy frames: Ikea, Goodwill, Ross.
Important Tip: Don't hang stuff on every wall! Leave one wall free completely from hanging items, so that your eyes have somewhere to rest.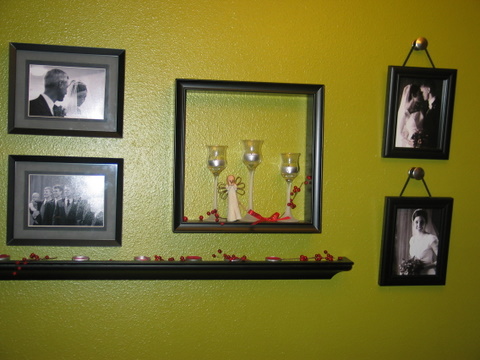 Simplicity of Baskets
Decorate your home with lovely baskets storing or displaying items. I have used baskets to store baby's toys that are really cute. My friend Lylah, shows a picture of a cute basket in her dining room. I love this idea!Baskets are cheap to come by at your local Goodwill, Ross, etc.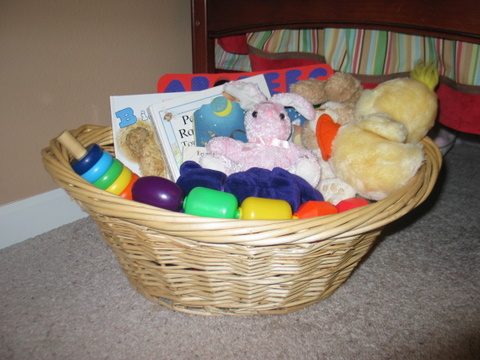 Make it a Home Full of Scripture
Making your home an embassy for the Kingdom of God is so important! You want those who enter your home to know what is most important to you. Use calligraphy or print in nice fonts different passages of Scripture and frame on your walls. One idea: This picture displays our name placs with the meaning of our names (family tradition), and verses corresponding to them. Everyone has probably seen these. Why not display them in a prominent place? At my family's home we had our names and pictures of all eight of us kids going up the stairs.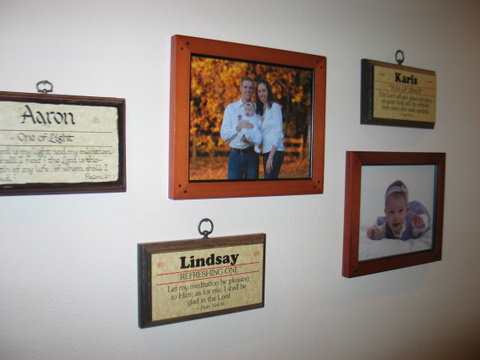 Meaningful Memorabilia
Hang your veil above your bed frame, frame your wedding invitation. I wanted to preserve our wedding vows and have them framed in our bedroom as a good reminder to the commitment we had made to each other as well.
Display your food
This is a simple way to decorate your kitchen. Use nice glass jars (I got mine at Ikea) to display your grains, beans, popcorn, etc. I love it! Plus they are easily accessible when I am preparing a meal. This is what it looks like above my kitchen sink. I added my Ikea jars with grains, some simple cloth napkins and napkin rings (a nice wedding gift that matched perfectly with our kitchen!), and I put some platters on display in the background.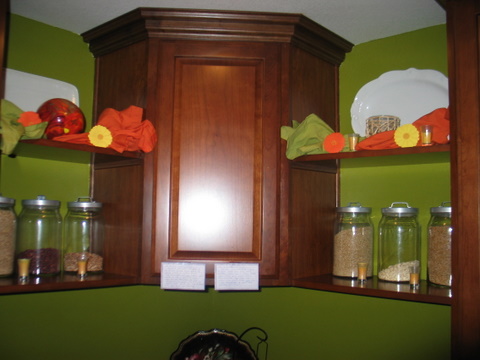 Recommended Reading:
These titles should be available at your local library!
Decorating on A Dime by Christy Ferer
Trade Secrets from Use What You Have Decorating by Laurie Ward
Frugal Decorating Ideas – a great site with lots of ideas for frugal momma's
Decorating Small Rooms - here is a great article on decorating small rooms, as most of us may have only these!
I would love to hear your ideas! Please share them!