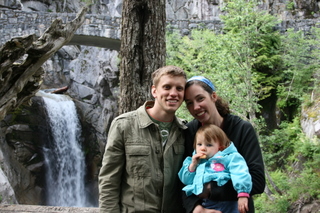 As I look back on the summer and welcome in the coming of fall, I am so thankful for each new season of life and the wonderful cycles that God has so beautifully fashioned. We had a full but productive summer!
This month included many adventures…camping with Lightsys (the technology in missions ministry we are joining), a quick weekend trip up to Seattle to visit Aaron's extended family, lots of family birthday parties (as so many of them fall in this month!), car breakdowns, mommy's belly starting to pooch out just a little bit announcing new life on the way, Karis starting to walk, enjoying the first fruits of our container garden, storing up wonderful produce for the winter, and the like.
I have also experienced both of my blenders breaking on me (one which came with my Bosch mixer and the other which was a backup and had been loaned to my brother-in-law, and broke shortly after he returned it to me while I waited for my Bosch replacement). Alas…a huge loss around here! Thankfully one is covered under warranty but the piece is on back order for who knows how long…it's been pushing a month now and yet I still keep adding smoothies to my breakfast menus in faith that it will arrive.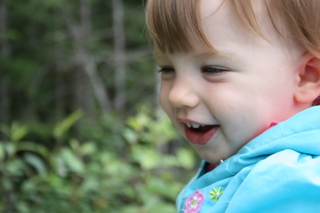 Among all the adventures, the reigning truth is that God is sovereign and always working out His perfect plan in and through our lives. I rejoice to see the good work that He is doing and His merciful provisions in everything.
Car Update
Many of you have been inquiring as to our current car situation. We greatly appreciate all your sweet comments and prayers. Aaron's brother and wife graciously loaned us a vehicle while we search for a replacement. We have been adviced by a mechanic friend of our family to try to sell our vehicle as it is. If this doesn't work, then invest in repairing it and selling it. He encouraged us to defintely consider finding another newer vehicle to avoid future problems. Our trusty subaru was pushing 13 years old. So that is where we are at, getting our car cleaned and ready to try to sell. In the meantime we are looking out for a good deal on a newer vehicle, trusting the Lord will provide for us, as He so faithfully has done in the past!
Peaches & Produce
Freezing peaches for winter smoothies and dessert, canning peaches for Karis to munch on or add to fruit salads has been keeping me busy lately. I have been picking and freezing blackberries, blueberries, and other fresh goodness. Our tomatoes are starting to produce, but it appears they might not be so successful to give us a good canning supply…but we shall wait and see!
Karis at 15 months
Karis started walking at the beginning of the month! She has been so adorable and fun to watch as she develops in this area. She is such a big girl! She wants to eat everything on her own (and boy what a mess she can make -we could use a bath after every meal!), walk everywhere, explore everything. She loves hanging out on our back deck and exploring the garden or simply playing with the hose. Her hair is getting so long and I can hardly keep it managed or at least out of her face. She loves reading books with mommy…although she hardly sits through one book before opening the next and back and forth again. She has a random collection of words including: "Daddy" (but not mommy – oh when will that day come?), "cracker", and "amen" (which she loves to say after our prayer times), and that's about it. It is so cute all the same.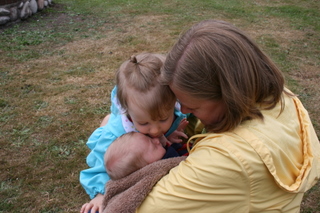 Karis is loving on one of her second cousins with Grandma Edmonds. She is going to be such a good big sister! She loves babies!
Pregnancy Update
I will be twelve weeks along by the end of this week! We are looking forward to the arrival of our second little one around March 11th. We will not be finding out the gender of our baby, because we love the suspense and surprise! We thought for sure Karis was going to be a boy…and low and behold, the Lord surprised us and oh how fun it was! Did you know that only 5% of couples now a days wait to find out the gender? Crazy…well, I am stubborn and will make a stand and join that 5%.

I have been feeling much better in the last few weeks, and I think starting to wean Karis was a huge part of that. We are down to nursing once a day. I am thankful to have been able to nurse her for so long. My body was just not able to feed three people at once!
The only ailment that has entered the picture again, as I experienced it in my first pregnancy, is occasional very painful chest and upper back pain. Last time around they thought it was related to my gall bladder but after being examined it was suspected that it was rather inflamed cartilage in my chest. Who knows…but it is sure painful and not very fun! But other than that, I am very thankful for a very smooth pregnancy thus far! Naps are still pretty essential and necessary to maintain my cheerfulness around the house. I will have my first midwifery appointment this next week, as we plan for our second home birth, Lord willing.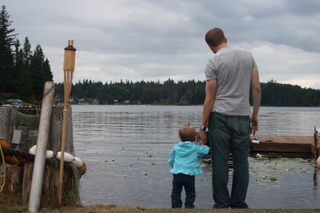 Planning for a New Season
As I begin to reflect on this new season, I am being challenged by the Lord to spend time in prayer and planning. I was able to get out for an hour while the baby was napping today (thanks to the wonderful blessing of having my hubby working from home!), and spend some time praying and reading the Word. I am eager and needing to seek the Lord for a renewed vision in my mothering, to glean clarity in how I can minister to others during this season, and vision for my blogging as well.
The Lord was so merciful to give me insight into these areas. Praise the Lord! He is so faithful to respond to those who call upon Him. These insights will be shared more fully as we enter into our book study on The Mission of Motherhood, a resource that is greatly assisting me in renewing my vision for my primary mission field – the hearts of my children. Praise the Lord that He is so gracious to fill us again when we lose sight of our purpose…