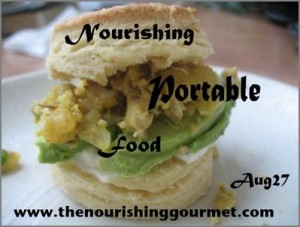 We are taking a pause from our simplifying series today to participate in the Nourishing Portable Food Challenge hosted by The Nourishing Gourmet.
My challenge lately has been to supply my little toddler (who eats a ton!) with portable nourishing food for on the go! We have to be creative in bringing snacks for car rides, church services, extended outings doing errands, etc. or we might just have a disaster! I have learned this lesson the hard way…don't go grocery shopping when you kids are hungry unless you have something to give them! Being pregnant, I am also having to think about bringing good protein snacks for myself on the go.
Here are a few of our ideas…
1. Pancakes - homemade pancakes as easy to make in large batches and stick in the freezer until ready to use. They can be torn into small pieces and placed in a baggie for infants to feed themselves on the road. I love these pancakes and they can be made with just brown rice & millet for a gluten free version. This is my #1 choice for the road because it lasts a long time at room temperature!
2. Homemade Crackers - this recipe is excellent for taking around in the car. I recommend less baking powder (more like 3/4 tsp) than the recipe calls for, as I made it twice following the recipe and it produced a strong sour aftertaste. It may just be me, but I didn't prefer that in my crackers.
3. Applesauce Bread - or any kind of baked bread (banana, zuchhini, etc) makes a yummy and nutritious snack for baby on the go.
4. Raisins (for older little ones) – Karis loves raisins (in moderation

. No mess!
5. Blueberries – fresh is easiest, but I have also brought frozen in a small bag for Karis to munch on. Also consume in moderation.
6. String Cheese- this is one of Karis' favorite on the go foods. Remains fresh for most longer car rides, unless subject to intense heat, then you might have a mess. Great protein snack for the pregnant/nursing mommy as well!
7. Larabars - I am looking forward to trying this homemade recipe for simple nutrition bars, not only for the little one but for me as well! Made with dates, coconut flakes, dried nuts and seeds of your choice. Another great protein snack for pregnant/nursing mommy.
8. Avacados & Bananas – Most of the above items are easy for little ones to feed to themselves, but on other long travel rides, I have often brought avacados and bananas as items I could feed to her while we traveled. These both last well without refrigeration.
A few other recipes I came across while preparing this post: Really Raw Honey Balls & Arrowroot Cracker Bits. These are found at the end of an excellent post on Growing Wise Kids – knowing what and how to feed children nutritionally. Yummy!
As Karis gets bigger, we will start including ideas such as sliced apples (without the peel) and carrot sticks.
Scoop on Cheerios
It was so easy at first to just buy a box of cheerios to have on hand for these outings. That is until I read a little bit more on this. Cheerios along with any boxed cereals have a high content of phytates which make them difficult to digest, and they go through extensive processing, which destroys most, if not all, of the nutrients.
"Avoid Extruded grains, such as cold breakfast cereals, including puffed cereals, or rice cakes (and cheerios). Not only have these over-heated and pressurized foods caused rapid death in test animals, but the process destroys the existing nutrients and makes the end product exceedingly difficult to digest.43
Fallon, Sally. Nourishing Traditions. New Trends Publishing. 2001 Page 25.
I would love to hear more ideas for nutritional portable food for the littles!
For more nourishing practices for on the go, visit The Nourishing Gourmet.