Drumroll please….well, you probably already figured it out…I kind of gave it away, I was just too excited..but yes, it is true. God is graciously blessing us with another gift of life, due to arrive, Lord willing, around the middle of March. Praise the Lord!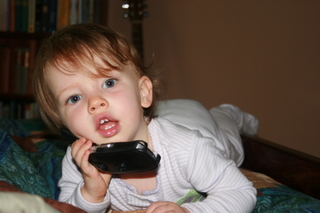 Karis is calling all her friends to tell them the great news that she is going to be a big sister!
I am thankful for the opportunity to cherish another little blessing, but am currently experiencing the joys of being a very tired mommy! I knew I was pregnant when I could actually take a nap (falling asleep that is)- I never can outside of being pregnant!

We are grateful that God has chosen to entrust us with another soul to raise and nurture in the love and admonition of the Lord! We are weak and undeserving…only by His grace and strength can we accomplish such a high and holy task!
Psalms 127:3-5
"Lo, children are an heritage of the LORD: and the fruit of the womb is his reward. As arrows are in the hand of a mighty man; so are children of the youth. Happy is the man that hath his quiver full of them: they shall not be ashamed, but they shall speak with the enemies in the gate."
That is what we are thankful for this week!