BEFORE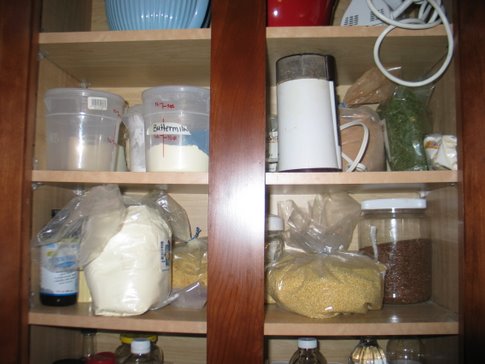 I have been reorganizing my kitchen storage system lately to maintain a more clean, simple, and organized layout of all my baking products, grains, legumes, etc. I have so many different varieties of containers that are just taking up a ton of space.
I have also been researching lately on the harmful PVC toxin that is added to most most plastic and vinyl products/containers, etc. It seems that plastic can be very harmful and migrates from the storage container into your food. An additive called BPA that is used to harden plastic in baby bottles, storage containers, water bottles, etc. may cause a wide range of health problems including cancer, brain damage, infertility, and other issues. It is especially dangerous for infants, they are discovering. Read more by following the links below.
With this in mind, I have decided to begin to gradually fade out my plastic storage and switch over to glass containers. I am using simple glass canning jars of different sizes, but mainly wide mouth quart canning jars. The reason I am using wide mouth jars is that I can easily pull in and out a measuring cup or spoon. These are easy to come by at your local Goodwill, and Craigslist. I bought several at Goodwill for 20 cents each. Not bad at all. It is wonderful! They are all uniform and my cupboards look greatly improved! See pictures below. I am still in progress…on the lookout for some larger glass jars (1/2 gallon and 1 gallon sizes for larger quantities for my lower cupboard). Any ideas of where to find these at?
AFTER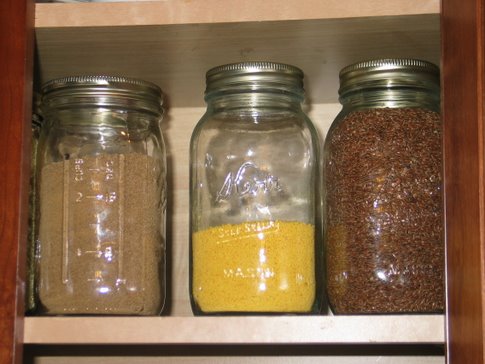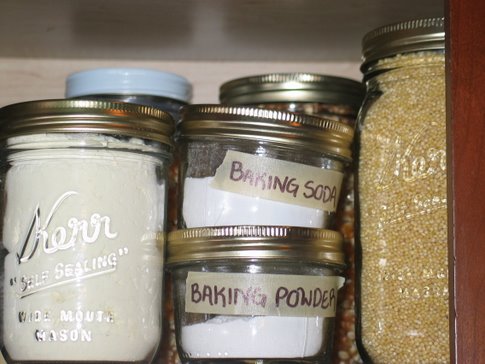 Here are a few interesting articles on possible harms of plastic. Please use your own discernment when viewing these sites, as I cannot recommend or agree with everything presented:
Scientists Fear Chemical in Plastic
Chemicals Used to Harden Plastic
PVC: The Poison Plastic – a cute little video helping to identify what products in your home have PVC
Visit Kitchen Tip Tuesdays for other Kitchen tips and ideas!