June has come to an end already but what beautiful weather we have been experiencing here in the Northwest over the last few weeks! I have so many things to be thankful for looking back over this month. The wonderful weather has sure been kicking in the allergies! Thanks to the allergy tonic recipe, I have been surviving pretty well (twice a day!). We re-financed our house this month, and were able to get a bit of money in the process, which is going into savings for a new car (well…new to us that is!). If you have read this, you know of some of the crazy things that have happened with this car! Being able to refinance was a blessing in itself because our mortgage was going up significantly.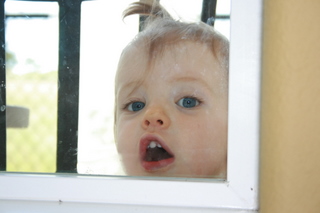 Playing pica boo!
Another blessing was Aaron having a wonderful time at the technology in missions conference earlier this month. He feels confirmed that that is the direction God would have us go…now the question and prayer is…when and how? Should we do it full-time or part-time? Should he work on the side to support us or should we raise support? Lots of fun questions…but we serve a faithful God who graciously leads us in the direction He would have us go. Appreciate your continued prayers.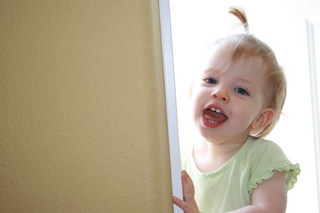 Ahh! I found you!
Karis has taken 6 steps several times now! I am wondering when she will get inspired to walk…but it sure is fun seeing her become a little girl. She loves exploring everything!
CHICKENS!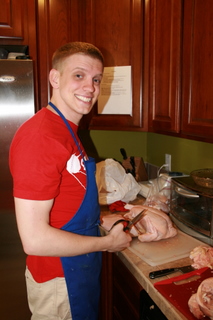 We brought home 12 chickens this week from a Christian family that raises them just south of us (DeoVelente Farms). It was an hour drive but worth it for the quality and freshness of these birds! They were 6.5-7 lbs each, which serves around six meals for us. You should have seen the size of the chicken breasts…each one will last two meals. I got to see them being butchered, which was a pleasant and simply hilarious sight (not by choice, mind you!). We cut them all up and stored them away in our chest freezer.
I am so thankful for a source of good quality chickens so close to home!
ANTS!
We had a lovely colony of ants in our abode lately! (I would show you a picture but then you might never come back!) They were discovered crawling in and out of the electric outlet above our stove (inside my cookbook cabinet). Yuck! These were no small ants either. Well, our natural methods seem to be working so far – borax, sugar & water! The idea is that they take the sweet and yet deadly drink back to the nest to share with the others and eliminate the colony.
This video was a helpful tool in eliminating our ant problem! Quite humorous. Avoid the plastic wrap if possible. It didn't seem to allow the ants to get in very well. I think it is just a safety precaution for little ones, but ours was high up in the cupboard so it wasn't necessary.
Thankful that the presence of these ants is another simple reminder that this world is not my home!

My home will never be perfect here on this earth…
Our Garden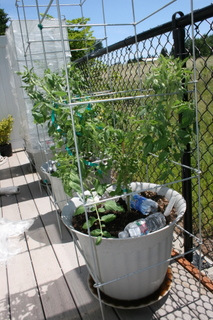 I love it! My tomatoes are growing beautifully, I can hardly keep them standing up! This picture is actually from last week, and they are already larger than this with all the sun we have been getting! I removed the plastic wrap around the cage this past week (read more about this here). They are falling over as they get so tall and heavy. We ended up switching out our small cages for these larger ones. My husband was ingenious and figured out how to put them over the entire container pot. These heirloom plants will fill up the entire cage! I even have three small (golf ball size) tomatoes growing on one of the plants already. Horray! I am amazed they are surviving my poor gardening knowledge and skills.
I added green peppers, cilantro & parsley to my collection. My husband informed me that was the limit I can fit on our deck! I was trying to think of all these creative ways to fit more pots next year. I guess I just will have to be content with this! It is a wonderful blessing to grow some of our own food.
Summer of Service
This summer we felt the Lord leading our mission group to really focus on seeing this summer as an opportunity to serve in our communities. The vision has been cast by Luis Palau and the upcoming Portland CityFest which will be happening on the Portland waterfront in late August.
We are leading a week long mission outreach later on this month doing various service and outreach projects in our city. It is so exciting to see our primary mission field as just outside our backdoor. We will be serving widows, handing out gifts to the homeless, serving at our local Pregnancy Resource Centers and a local homeless shelter for women and other projects. Various families from our church are working together with us on this mission trip!
If you live in the Portland area, check out the Season of Service website for a whole list of various projects in the area that you and your family can get involved with. You can join us too! If you live elsewhere, how about getting ideas from the site and looking around your community? What needs could you help meet while speaking of Christ Jesus this summer as a family?
Those are just a few things I am thankful for this week – the opportunity to grow some of my own food, and to buy fresh chickens locally, and to blessed with the awesome privilege of serving the Lord with our summer!
Thanks to Laura once again for the challenge to take the opportunity today to reflect on the many rich blessings that the Lord pours out upon us daily. Visit Gratituesday to hear what other's are thankful for and join in!
His mercy is new every morning! Great is His faithfulness!