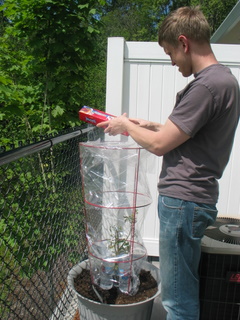 It was such a joy to start my own garden on Saturday! There is definitely something fulfilling in planting your own food. Since I was really nervous in the whole preparation process, I was surprised to find it so enjoyable to actually set to work and do it! Now I wish I had planted more than my four cute tomato plants, but then space is limited, and I am taking baby steps!
Okay, so I am no expert…let's get that straight! In fact, this is the first year I am attempting to grow my own garden of sorts on my back deck, but I do have some tips and tricks to share from our local farmer. And he guarantees success!

1. Get a good cage! Wherever you plant, you will want a solid metal cage to secure and uphold your load of tomatoes.
2. If planting in ground, put down mulch where you plant. Use black trash bags – it will trap more heat for the roots.
3. Strip off the bottom 4 inches of branches and plant the plant 4 inches deeper than it is in the pot (the disposable container a tomato start comes in). You want to plant it pretty deep, a lot deeper than you would naturally think.
4. At the bottom of your hold put a handful of sweet lime/calcium and a handful of fertilizer, then cover with a little dirt.
5. This is the biggest tip! Place two or more large 2 litter plastic containers (or as many small containers as you can scrounge up), and fill them with water. Seal them with the caps on and place them as close to the stem of the tomato plant as possible.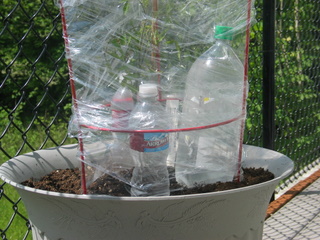 6. Wrap your cage with saran wrap! Yes, that's right! Plastic wrap! (This is the one thing I decided to make an exception for to buy plastic wrap for the cause, as I honestly don't use it anymore!) The whole idea is to create a green house effect, and keep your roots warm, especially at night. If you're anything like me, I did a terrible job getting a tight rap around my cages, so I let my husband do it…his expertise came to the rescue! His advice: Start at the top and work down! Two layers is even better!
7. Make several ventilation holes on the top and around the side with a knife or something else.
8. Water your plants at night – avoid getting your leaves wet…for that is when they grow, and another reason why you want to keep them warm.
My plants have already grown quite a bit since Saturday! We'll just have to stay in touch to see how successful these little tips are this year!
It's not too late to plant tomatoes! At least around here they say you can plant them up through the first week of June!