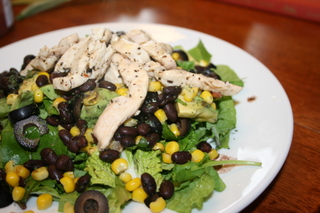 This is a scrumptious main dish salad and a favorite for any warm evening! It is our frugal and nutritious meal for the week!
Chicken thighs, cut into strips (we used 1 thigh for our family!)
Avocados, sliced
Black beans, heated
Corn, heated
Salad Greens
Green onions, chopped
Cilantro, fresh and chopped or dried
Olives, chopped
Tomatoes, chopped
Mozzarella or Sharp cheddar, grated
Dress with Ranch dressing or salsa
Tortilla chips, on the side, optional
Barbecue chicken strips and toss with seasonings of your choice (i.e. Savory seasoning). Top your greens with all other toppings and enjoy!