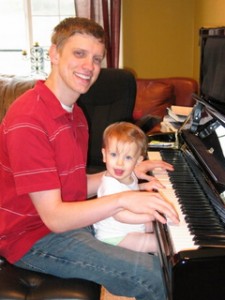 Karis is almost 1 year old (May 4th)! It has caught me by surprise…but what a special year it has been with this little bundle of joy and "grace" as her name means. God's grace has been sufficient! Karis is doing her army crawl. After seeing her cousin crawl this past week at the beach has really inspired her. She will now occasionally get up on her knees and crawl. Karis is a social butterfly and loves waving at everybody!
She is pulling herself up in bed, on tables, and everywhere else she can. She learned sign language for the words "more" and "thank you", and we are still working on "please" and "down", but I have been amazed at how quickly she can learn and understand.
Aren't these hands so precious? She is going to be quite the musician!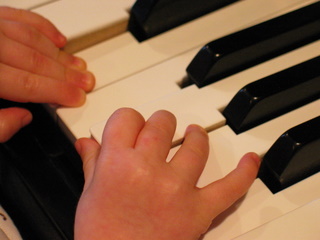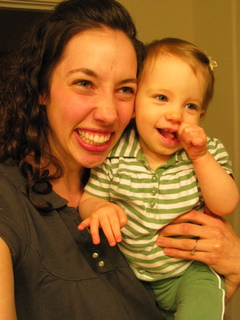 In addition, she is eating up a storm! I can't slow her down! She eats three good meals a day in addition to nursing five times and still she manages to stay pretty petite! More teeth are arriving and she is cruising around in her walker (a wonderful toy passed down in the family). She is keeping mommy busy.

But it is such a joy!
As for Aaron & I, we are enjoying married life! We are coming up on our 2nd anniversary on the 21st of May. I still love him more than ever! God has been providing for us in beautiful ways. One example comes to mind. Aaron really desired to attend a technology in missions conference in June in Indiana. We prayed about it and looked into getting some air mileage from family, but nothing was available. We decided to just leave it in the Lord's hands. The Lord provided an amazing airfare price of only $200 and with the cost of food and registration, the total came to around $450. The elders of our church have graciously chosen to cover the entire expense for us. Praise the Lord! Aaron is simply thrilled and ecstatic.
We are so excited to continue to serve the Lord in mobilizing and increasing awareness in our church for missions and extending Christ's name to the nations.
Karis at one of her favorite pastimes – the lid drawer!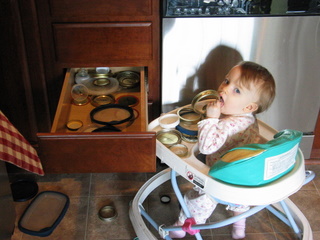 I have almost finished the school year out with my piano students, and am prayerfully evaluating what God would have me to do this next year. I am considering consolidating my teaching down to one day, and cut back on students. We'll see what the Lord has.
Mommy & Karis being silly in front of the mirror!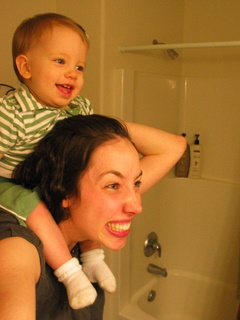 The Lord has really been challenging me in the area of compassion and putting on love at all times (Col. 3:12-14). I have been so stirred to be a cultivator of love and compassion to those around me, and I am prayerfully seeking his direction how I can seek to mobilize other women in how to effectively minister to the needs of others from the home, and making this the center place for ministry. I asked the Lord just this past week if there was someone I could minister to by inviting over for tea and fellowship. The Lord put a woman in the church into my heart, I invited her over, and we had such a lovely time! The Lord really blessed our fellowship, and I believe it was very fruitful on both sides. There are so many little opportunities to bless and serve others from our homes! Oh to make my home a haven of ministry unto others! That is my vision and passion. Tomorrow we will be having a bunch of young adults over in the church, and I pray that once again we may bless and encourage them in the Lord. With God all things are possible!
Another one of Karis' silly expressions!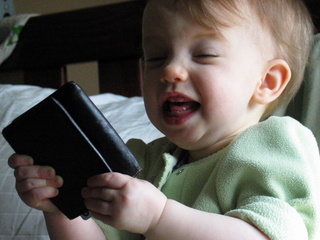 God is so good as another month passes by…
Many blessings upon you all!