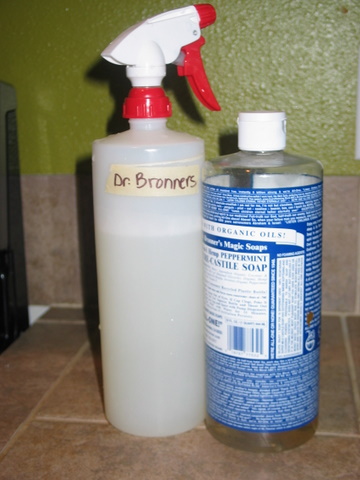 I am all about getting multiple uses with one product! Not only does it typically save money, but it keeps my house more simplified!
Recently, I have incorporated the wonderful natural ingredients of Dr. Bronner's organic castile soap in my kitchen cleaning routine! This product contains: Saponified Organic Coconut, Organic Palm and Organic Olive Oils (with Retained Glycerin), Water, Organic Hemp Oil, Organic Jojoba Oil, Salt, Citric Acid, Vitamin E. I use it for washing dishes, and spraying down and disinfecting the counter tops at the end of the day. I am also using it for other household cleaning as well.

Here's how it works: I buy the liquid version, which comes in larger containers (quart, gallon, etc). You can buy this online or through Azure Standard, or at your local health food store. Trader Joe's sells a quart size container for $8.99 (which is the best price I have seen). I took a large spray bottle, filled the bottom with 2-3 inches of soap and then filled the remainder of the container with water. Simple! If you want a stronger soap, add more soap to water, but this seems to do the job for us. One thing about using a dishwashing soap, was that it always came out too fast, and I would end up using more than I needed. With the spray bottle, it applies what I need and away I go! Plus a little bit of Bronner's goes a long way! I use store it under the kitchen sink in between washing, as I don't really like having bottles of stuff around my sink.
3/11/ 08 UPDATE: After more experimenting, I have discovered this works more effectively at cutting grease and disinfecting if you add a few tablespoons of baking soda and 2-4 Tbls of vinegar to the mix.
Another washing tip
Keep your water pressure to a medium level and keep it lukewarm! I have been trying to do this more lately. It is so easy to just turn it on full blast and waste a lot of water and electricity. Remember to use that dishwasher!
That's my kitchen tip for the day! Saves money and simplifies your kitchen necessities!