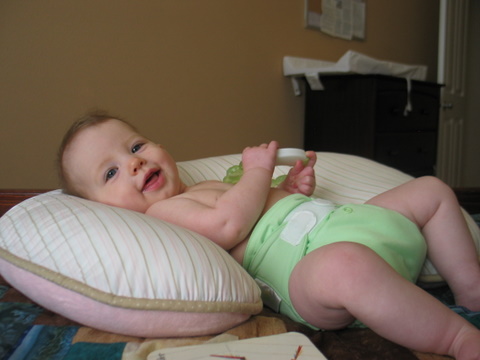 Karis in her BumGenius!
Cloth diapers! There are so many cute diapers out there now and it's so simple! No dunking necessary! Why in the world would I pursue this route? My main reason for cloth diapering was so I could spend more of our budget on good wholesome food (prioritizing my spending). But there are several other benefits…
Why Cloth Diaper?
Beth shares all about the benefits and reasons for cloth diapering. It is economical (far cheaper than disposables), you are not wasting anything (no adding to the landfills), nothing harmful for your babies bottom, and if you go my route you should be set for diapering a couple of kids on $300 (depending on how well you take care of your diapers)! They are a lot simpler than you may think.
Cloth Diapering Options
Prefolds & Covers – The most reasonable method is to go completely chinese/indian prefold and covers. This is cheap and they last a long time. The disadvantages: you have to have multiple sizes as your child grows, they tend to be very bulky, you have to wash the covers separately from the prefolds, and they tend to be more rash prone.
Pocket Diapers - A diaper cover that has an opening for a folded prefold or specially designed insert to be placed into the opening. This is a two part cloth diapering system (diaper & insert). Pros: they are very trim, dry quickly, diaper and insert can be washed together, and come in all sorts of cute colors and styles! Cons: you have to take out the insert after every use, wash, and re-stuff them. Middle of the road in the expense category.
All-In-Ones- have an inner absorbent layer attached to an outer waterproof layer with adjustable closures (either Velcro® or snaps). All-in-one diapers are just like disposable diapers except you wash them! Pros: most convenient, easiest to use, most like disposable diapers. Cons: one of the most expensive options, and take the longest to dry.
My Recommendation
I personally use BumGenius one-size pocket diapers and love them! I originally started with prefolds and covers, but was constantly plagued with rashes on my babies bottom (now I know this is not the case with every baby). I also had to buy different sizes of covers as she grew, which I lacked the storage space for. I choose to invest in the BumGenius diapers because they have great reviews, are so easy to use, dry quickly and come in cute different colors. They also solved the majority of my rash problems. I use disposable diapers at night for best results in keeping rashes away. They are a one-size diaper and a snap adjustment system can be changed as she grows…and I can use the same diapers for more than one child, without having to think about different sizes (especially if I had two in diapers at a time! Ahh!).I would just change the snap setting and be set to go!
I spend just over $300 for 20 diapers which lasts me about 3 days. To keep my diapers in the best condition possible, I hang them to dry (to keep the velcro in good condition). The one disadvantage is that the insert is very thick, so I can normally only dry it half way before putting it in the dryer, because I am usually not quite on top of it for letting it hang dry for the length that it needs. I have had very few leaks (far less than disposables!), and they are comfortable for her bottom! They wisp away the moisture from her bottom, so I have gone up to four hours before changing without a problem (that is, unless she went a dupey).
One last note…you cannot use regular diaper rash creme on these diapers or else you will stain them (and it does not wash out)! I use Northern Essence diaper salve and it works great and has solved any minimal rash problem I have had with these diapers (I have only had a rash from leaving her in a dupey diaper for too long)!
For diaper detergent recommendations, visit here. I have used All Free & Clear with great success.
The only extra effort that cloth diapering takes for me is pulling out the inserts, placing both diaper and insert in a diaper pail, washing and hanging them every three days! In my book, the savings makes the tiny bit of extra effort worth it! And they are oh so cute, gender neutral colors!
Care Tips:
Hang them to dry and always wash on a gentle cycle!
The manufacturer sent me the following information:
Basic Washing Routine:
1.      Wash the entire load on cold with ¼ to ½ (¼ for high efficiency machines, ½ in regular machines) of the detergent manufacturer's recommended amount. Washing (a full wash, not a pre-wash) once on cold water is important to remove leftover BM (even if it is not solid yet) from your diapers. This step also goes a long way to preventing stains.
2.      Wash the entire load again on hot (up to 120 degrees) – also with the above-mentioned detergent amount.
3.      Do a second (any temperature you prefer) rinse.
4.      You can dry everything in a warm/medium dryer.
5.      You may use ¼ of a cup of bleach in your hot wash routine once a month, without fear of harm to your diapers. Although some people consider chlorine bleach a harsh ingredient to use on baby's clothing, tests show that babies are much more sensitive to unresolved bacteria in diapers than to the ingredients used in laundry products.
If you should have problems with diapers that leak or stink after wearing or washing, your problems are fixable!
Stripping:
1.      Wash once in hot water with Dawn liquid dish detergent in the original blue formula (yes, it must be Dawn). Use one teaspoon for high efficiency machines or one tablespoon with a regular machine, including ½ cup of bleach in the wash cycle.
2.      Do two additional hot water washes with no detergent, just clear water.
As for rash creams, you may use the type of cream that you feel is necessary, or one that your doctor recommends. You will need to use a bumGenius Stay-Dry liner or a piece of fleece between your baby's bottom and the diaper to prevent the cream from transferring onto the diapers. After use, wash the liners separately to avoid the oils in the creams or lotions from transferring to the diapers through the wash cycle. The ImseVemse disposable liners are not a good option as a cream barrier. They are so thin that the cream can seep through. We have found that the bumGenius Bottom Cleaner works well for bottom cleaning during a diaper change and does not leave a residue in the diaper that will block absorbency. We do not recommend cornstarch or baby powder.
Resources:
Diaper Swappers – for all your cloth diaper questions, to buy used, and resale – a great forum!
Diaper Pin – a great resource with tons of reviews for all cloth diapering products. This site has been a lifesaver! They also have a lot of articles to answer questions.
NOVEMBER 2008 UPDATE
I have enjoyed my experience with my BumGenius for the year I have been using them (purchased originally in Sept 2007). Unfortunately, they are starting to fall apart now, even after taking the best possible care of them. The diapers look great overall, but the elastic around the legs is pretty well shot on most of my diapers now. Cotton Babies (the manufactorer) does offer a year warranty, and I was able to get several of my diapers replaced before the warranty expired, which was a blessing and will help extend their use longer, but I have come to the realization that they will only last through one in diapers. They informed me that a larger supply is best and will endure longer as each diaper isn't getting so much wear. I was using around 22 diapers, and they recommended 24-36 diapers. Overall, this is still a significant savings versus disposables, but I am still doing further research as to if I will restock to use them with our second child.
MARCH 2009 UPDATE: My Bum Genius diapers have been redeemed! Read more about it here. They once again receive my vote!
For an excellent selection of diapering supplies, including the recommended items above, I highly recommend Kelly's Closet. Excellent customer service and they reward you with points from each purchase you make towards future gift cards!