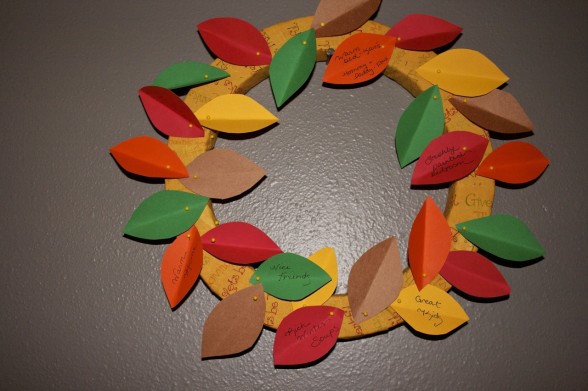 I am passionate about being intentional during the holiday season to cultivate simplicity and special family traditions in order to tune our hearts towards our Savior and focusing not upon ourselves but upon the glorious gifts that we are blessed with each and every day. It is easy for the holiday season to get incredibly busy with activities, outings, and gift shopping, and miss out on the more important work of preparing our hearts for the Lord's coming. I am certainly guilty of this. I am thankful for the grace and strength that God freely gives to help us stop the madness, search our hearts, and begin to make practical steps towards refocusing our hearts.
This year I came across a cute thankfulness wreath pictured in a recent edition of Family Fun magazine that I was inspired to make for our own use. It was super easy to make. You only need a 12-inch styrofoam wreath, fall colored cardstock (or construction paper works too!), and about 1/4 yard of fabric cut into thin strips (about 2 inch strips works best I discovered). I took each strip of fabric and wrapped it around the wreath and secured it with straight pins. Then, I cut out leaf shapes on the cardstock and folded each leaf in half for added dimension and pinned them around the wreath with more straight pins. Each night as we prepare our hearts for thanksgiving, we will take our wreath down from the wall and write on a leaf the things each of us our thankful for.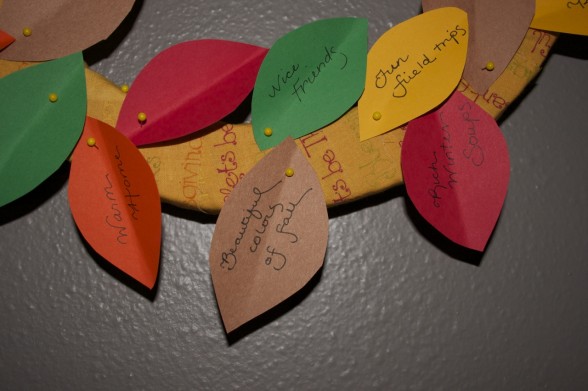 To take just a few moments on a regular basis to think upon what we are grateful for during this month of preparation for Thanksgiving is really precious, especially as you hear the small voices of little ones whispering their thanks and recording it upon our wreath. Oh to keep our hearts focused on the goodness of a Mighty God who loves us. I need grace each and every day to keep my eyes upon the Lord rather than my failures and problems. This simple practice is just one way to get our eyes off ourselves and on One far more worthy of our gaze.
For further inspiration, visit: 5 Meaningful Things to Do In Preparation for Thanksgiving. Looking for a quality picture book read aloud for Thanksgiving? Check out our favorite: Squanto and the Miracle of Thanksgiving.